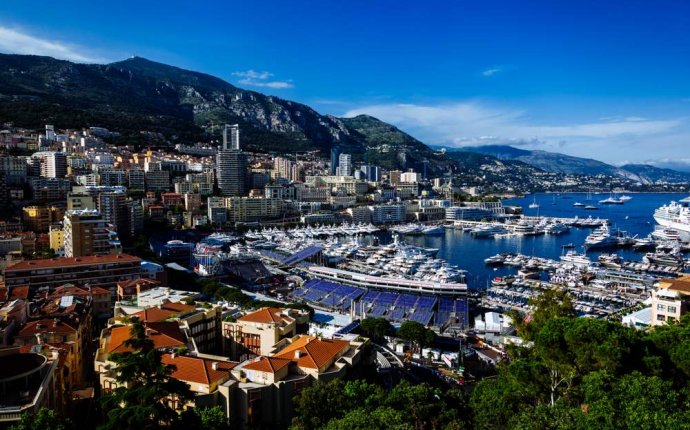 Monaco f1 Qualifying Results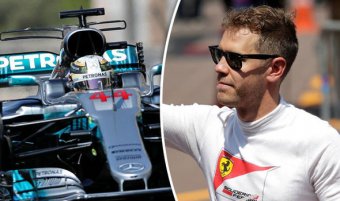 EPA/REUTERS
Monaco Grand Prix qualifying will see Sebastian Vettel and Lewis Hamilton resume their battle
The Monte Carlo circuit, which winds through the streets of the tiny principality, is exceptionally narrow and there are precious few opportunities to overtake.
The pole-sitter always starts as the favourite to win the race and Lewis Hamilton looked on course to take top spot when he finished fastest in Free Practice 1 on Thursday morning.
However, he and Mercedes team-mate Valtteri Bottas finished eighth and 10th in the afternoon with Sebastian Vettel looking comfortably faster than the rest of the field.
The German has a six-point lead at the top of the F1 World Drivers' Championship and looks set to move further ahead of Hamilton this weekend.
Twitter/F1
Monaco Grand Prix 2017: Q1 results
Monaco Grand Prix 2017: Qualifying 1 results
Eliminated: 16th Esteban Ocon (Force India), 17th Jolyon Palmer (Renault), 18th Lance Stroll (Williams), 19th Pascal Wehrlein (Sauber), 20th Marcus Ericsson (Sauber).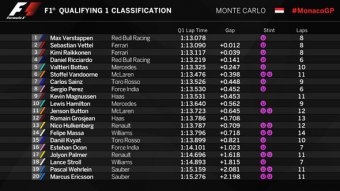 Jolyon Palmer's dire season continues. The Brit was complaining of understeer during the session and wasn't able to join team-mate Nico Hulkenberg in Q2. He stormed off and will be promoted several places by grid penalties but he was still deeply disappointed by the result.
Romain Grosjean looked like he might be going out after spinning at Mirabeau Haute but he pulled out a late lap to put his fellow Frenchman Esteban Ocon out.
Monaco Grand Prix 2017: Q2 results
Monaco Grand Prix 2017: Qualifying 2 results
Eliminated: 11th Daniil Kvyat (Toro Rosso), 12th Nico Hulkenberg (Renault), 13th Kevin Magnussen (Haas), 14th Lewis Hamilton (Mercedes), 15th Felipe Massa (Williams).
Lewis Hamilton missed out on Q3 for the first time since Italy 2013 as the Mercedes car continued to struggle. Since Thursday afternoon, Hamilton had not looked comfortable and the warning signs were clear to the Brit early on in Q2.
"I have no grip. Something's not right with car, " Hamilton said.
"Can we sort it out? Can I come in?"
He did so before going out again to find some more time but continued to struggle with grip and tyre temperature.
The three-time world champion's final lap looked like it would be faster but Stoffel Vandoorne's crash and the subsequent yellow flags in the final sector stopped any further progress right at the end of the session.
"I've got traffic and there's so much wrong with the car, " Hamilton added.
Monaco Grand Prix 2017: Qualifying 3 results
1st Kimi Raikkonen (Ferrari), 2nd Sebastian Vettel (Ferrari), 3rd Valtteri Bottas (Mercedes), 4th Max Verstappen (Red Bull), 5th Daniel Ricciardo (Red Bull), 6th Carlos Sainz (Toro Rosso), 7th Sergio Perez (Force India), 8th Romain Grosjean (Haas), 9th Jenson Button (McLaren), 10th Stoffel Vandoorne (McLaren).
With Hamilton out, pole position appeared to be a straight shootout between Kimi Raikkonen and Sebastian Vettel.
The Finn sealed his first pole in nine years as Vettel had his tyre warm-up interrupted by traffic while Valtteri Bottas ensured Mercedes will have one car on the second row tomorrow.
Source: www.express.co.uk