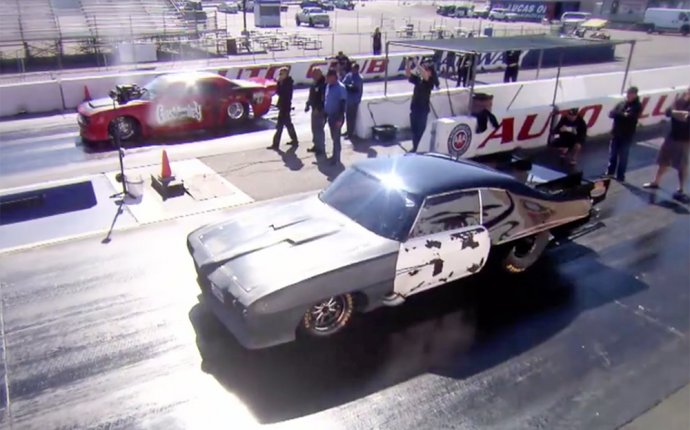 Who Won Racing?
Miami has seen a lot of history made in a lot of different sports over the years. But nothing quite like this. Nothing like the odd, nearly bizarre spectacle that unfurled Saturday at Marlins Park.
A diamond covered with asphalt. Race cars moving like fastballs. A hairpin turn in front of the home team's dugout. A finish line where the shortstop would be settling under under a pop fly.
A major auto race, inside a baseball stadium, loud enough for the neighbors in Little Havana to hear, against a backdrop of Miami's downtown skyline.
An international motorsports event, the 28th annual Race Of Champions, ran here Saturday in its first appearance in the United States (and first time in a baseball stadium!), and it picked the perfect city to make that history.
Noisy, fast, sexy, cosmopolitan. That's the ROC. That's Miami, too. As if to underline the perfect marriage, several drivers went sailing on Key Biscayne on Saturday morning.
And, for good measure, a driver who lives in Miami, Juan Pablo Montoya, survived the field of 20 drivers to win the championship, beating Dane Tom Kristensen in the one-on-one finale. It was the first time Montoya had fit the ROC race into his schedule.
"Today I'm actually regretting I haven't done this before, " said a smiling Montoya, 41. "It's good. It's beginner's luck. My wife said, 'I want to go, you gotta do it.' It's a fun event."
The race has previously been held in places like Paris, London, Barcelona and Beijing. This weekend's drivers hailed from 10 different countries, including Montoya's native Colombia. In the West Plaza outside the park before the race, you saw fans waving Colombian, German and Brazilian flags, and heard excitement being spoken in several languages.
The crowd was not great. No attendance was announced, but it seemed to me like a Marlins midweek crowd against the Padres, maybe 15, 000, tops.
Nevertheless it was a different, fun event and a weekend that writes a funky new chapter in Miami's sports history.
It was less than four months earlier when this same plaza was somber, so quiet you could hear the tears falling, as Marlins fans gathered spontaneously to share their grief after the sudden, tragic death of pitcher Jose Fernandez. On the far side of the plaza you still see the memorial wall that thousands of fans signed, heartbreaking notes of sorrow and love. On Saturday, though, the plaza was a carnival filled with race fans. People milled among vendors. An outdoor bar was crowded. A band played.
Baseball is around the corner. The Marlins, missing No. 16, start back up in April. Before that, Marlins Park will host World Baseball Classic games March 9-12. But it's a racetrack for now. A second ROC race on Sunday will crown a Nations Cup team champion before the noise abates, workers begin removing the 1, 778 feet of asphalt and the place transmogrifies itself for its main purpose again.
The utility of this ballpark is impressive. It has hosted music concerts and soccer. Just last month it became s a temporary football stadium for its annual college bowl game. But a racetrack — this may have set an unbeatably high bar in the Unlikely Events category. (I'm not counting the time Heat star Chris Bosh threw himself an Arabian-theme birthday party at the ballpark that included live camels.) The Marlins have a three-year deal with ROC, so barring a change, the asphalt will be back for a weekend the next two years as well.
The one-of-a-kind Race Of Champions format invites top drivers from various major race series. Saturday's Miami race, for example, included Formula One star Sebastian Vettel (who won the ROC last year), 2015 NASCAR Sprint Cup series champion Kyle Busch and the IndyCar star Montoya, a two-time Indianapolis 500 champion. Nine of the 20 drivers, including Busch and Montoya, were competing in their first ROC.
"Unique to say the least, " as Busch put it.
It's unique not only for combining various types of drivers but also for the format. Drivers compete head-to-head, once around the track. They gradually are eliminated using a round-robin format, with the top eight advancing to a knockout tournament. The final consists of two men going head to head in three races (laps), with the first driver to win twice crowned ROC champion. The two finalists competed in eight different types of race cars throughout the day.
Saturday saw only one notable accident. It happened early in the event and caused a 20-minute delay when German driver Pascal Wehrlein bumped the rear side of Brazilian Felipe Massa. Wehrlein got the worst of it, banging through soft barriers, his car flipping to a stop on its side along a concrete barrier near where the Marlins on-deck batter would be standing during a ballgame. Luckily, nobody was injured, though the crowd fell silent for the several moments before Wehrlein emerged from his car to cheers.
Source: www.miamiherald.com