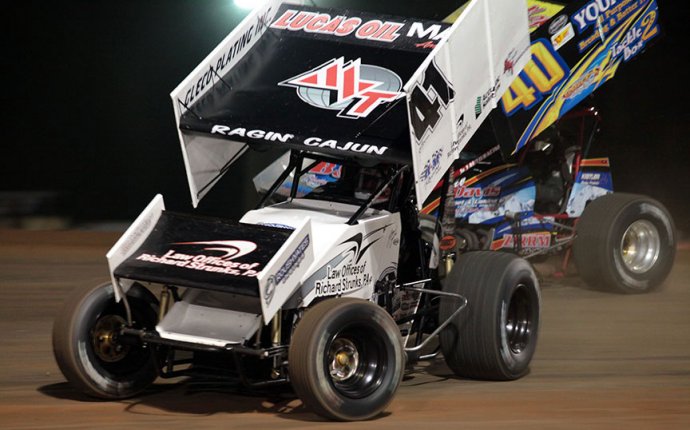 Short Track Nationals
BRISTOL, Tenn. – The hearty fans that stuck around Bristol Motor Speedway until late Sunday night received a treat.
With most of the drivers clinging to the bottom of the high-banked track and picking up speed in the cool conditions, the Short Track U.S. Nationals featured an example of the glory and gory days of Bristol Motor Speedway.
Basically, a rerun of the Bristol Bash unfolded.
After a rain delay of nearly five hours, the schedule was altered with the Super Late Model, Pro Late Model and Late Model programs broken into segments of 51 and 49 laps. Following each of the first segments, the drivers came back to complete their races.
The opening Super Late Model segment had a smooth start with most cars fighting for the bottom groove. But mayhem developed on lap nine when several cars became entangled in a crash.
Chandler Smith, 14, started from the lead and ran on the outside lane when the race resumed with a double-file restart. But NASCAR Xfinity Series driver Bubba Wallace grabbed the lead late and held off Smith and Travis Braden.
"These cars are fast and fun, " Wallace said.
The 130-mph speed of the Super Late Models, which is much faster than the NASCAR Cup cars, was jolting to some fans. By the end of the 51 laps, the upper groove had become the land of the brave.
Next up were the Pro Late Models, with Nate Walton of Hudsonville, Michigan, setting the pace. But after just one lap, the race was halted by an accident. Six more cautions followed by the 27th lap.
Emotions flared on the track and in the pits when the cars of leader Dillion Oliver (Bowling Green, Kentucky.) and Eddie Fatscher (East Northport, New York) were involved in a crash. The Oliver crew stormed over to the Fatscher crew where a member from the Fatscher team appeared to throw a punch.
"The little piece of s… just wrecked me, " Oliver said. "He hit me at the flagstand. I gathered it up and the [expletive] hit me again
"These punk-ass kids with money don't understand. We had to work for the funding to race. His daddy can volunteer to write me a check to pay for this car or put another one back together if he wants to."
Cole Williams (Borden, Indiana) finally emerged as the Pro Late Model first segment winner.
In a weekend for prodigies, 12-year-old Harrison Hall from Circleville, Ohio, was among the Pro Late Model.
In the first 51-lap Late Model stock segment, local racer Hayden Woods (Piney Flats, Tennessee) was involved in a crash on lap 19.
Myatt Snider, son of NBC Sports racing reporter Marty Snider, started from the No. 1 position and finished first ahead of Jared Fryar and Layne Riggs.
Danny O'Quinn Jr. (Abingdon, Virginia) was forced to retire to the pits on lap 34 after his car experienced mechanical issues following a crash.
"It's just frustrating, " said O'Quinn who drove for Abingdon businessman Wade Lopez. "We had a little hiccup in qualifying and had to start 12th when we through we had a lot better car.
"We were starting to make our way forward and we had a halfway break coming up. Everybody was just running too hard, and somebody got into it with a lapped car right in front of me. It's hard to miss it sometimes. Wade and Highlands Motorsports really helped us get ready for the race and it sucks to be standing down here watching."
Bubba Wallace won the second and final segment of Super Late Model race late Sunday night by one-tenth of a second over short track veteran Jake Crum.
Source: www.heraldcourier.com