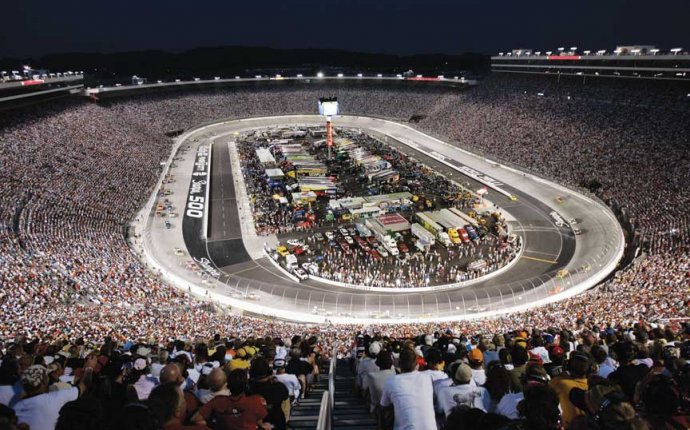 Bristol Racetrack

As Virginia Tech and No. 17 Tennessee prepare to set college football's all-time attendance record when they play Saturday's Battle at Bristol, the staff at Bristol Motor Speedway is finishing the monumental job of turning a racetrack into a football field.
Workers had 19 days to build a field, gut two infield buildings, construct locker rooms, add thousands of seats to the grandstand and prepare the grounds at what NASCAR fans call "The Last Great Colosseum." Here are some numbers from the colossal endeavor:
Days it took for 15 Astro Turf employees to build the playing surface.
11, 000
Tons of rock and manufactured sand — 450 truckloads worth — hauled in to form the base of the playing surface.
180, 000
Pounds of silica and rubber placed on top of the base layer.
100, 200
Square feet of artificial turf used for the field, which measured exactly 1.5 inches tall. The height is measured three times in 10 locations on the field before it is approved suitable for play.
Impressive so far. @BattleAtBristol Keep up the good work. See you Friday. #GoHokies
— VT Equipment (@VTEquipment)
150, 000
Expected attendance for the game, which would set a new world record for the largest American football game, college or professional. The current record is 115, 109, set at the Sept. 7, 2013 Michigan-Notre Dame game in Ann Arbor, Michigan.
5, 000
Temporary "premium seating" that was added to the track after the grandstand sold out in May.
$400
Starting cost for a VIP ticket located on the track.
1, 000
Number of onsite employees helping to manage the crowd Saturday.
240
Tour buses that will shuttle crowds from park-and-rides located at three towns around Bristol.
19
Law enforcement agencies and contracting companies enlisted to provide security for the game.
Seriously one of the coolest trophies ever! Awesome! #BattleAtBristol September 10th@espn
Source: www.washingtonpost.com