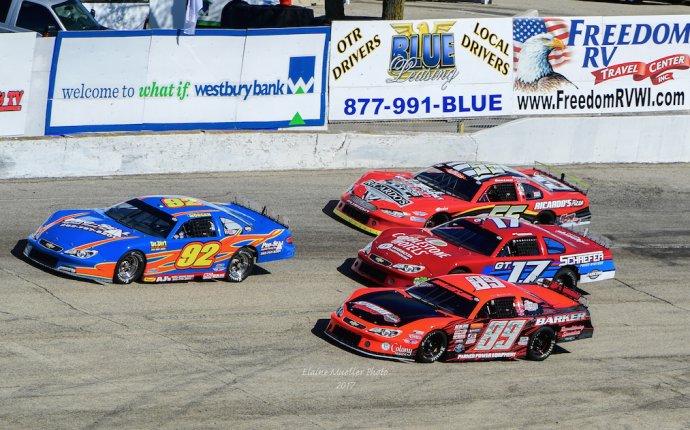 Slinger Race Track
Once you experience racing action at Slinger Super Speedway, you will understand why the World's Fastest Quarter Mile Oval has such a rich motorsports tradition.
Dating back to the opening of the track in 1948, the speedway has been a breeding ground for racings rising stars. Slinger Super Speedway's feature winners and division champions, such as Dale Earnhardt, Mark Martin, Matt Kenseth, Rich Bickle, Ken Schrader, Rusty Wallace and the late Alan Kulwicki, have gone on to find success in the elite NASCAR Winston Cup Series.
Others, such as seven-time track champion Miles Melius and five-time track champion Bill Johnson Jr., have remained legends of Slinger Super Speedway for more than 40 years.
With the help of Wayne Erickson, track owner Rollie Heder decided the track was in need of a serious transformation. Slinger Super Speedway was born in 1974 as a high banked asphalt oval. Erickson was no stranger to auto racing, as he had been involved with the sport since 1963. He had two modified cars that he shared with current track record holder, Tony Strupp.
Erickson and Strupp raced at the Milwaukee Mile, Beaver Dam, Hales Corners, Columbus, Kaukauna, Wisconsin Dells, Madison a! nd Norway. Needless to say, the two men got a feel for area tracks, while setting the stage for what would be for both, two successful racing careers.
In 1976 Erickson purchased the track from Heder and brought a fresh spirit of competition that attracted media, drivers and fans from coast to coast. Erickson also believed in creating the maximum fan experience and ran promotions such as the Miss Slinger Super Speedway pageant, the penny and nickel drop and bike giveaways.
In addition, Erickson honors the Scouts for all of their accomplishments by having an annual race dedicated to their tradition and excellence. Erickson goes above and beyond promoter's call of duty by offering fans giveaways, such as hats, t-shirts and seat cushions throughout the year.
The track has grown tremendously in the past 50 years and has evolved into a premier motorsports facility. In October of 2002, Erickson, resurfaced all four corners of the track in order to smooth the surface and create faster lap times. Track resurfacing could pave the way for a driver to break the current track record set by Tony Strupp on June 12, 1994 when Strupp navigated the high banks of Slinger Super Speedway in 11.095 seconds.
Year after year, some of the best know names in motorsports race each other around the high banks of Slinger Super Speedway, just as their older colleagues did in 1948. Each year brings new milestones to speedway competition but one thing is for certain, the Sunday night tradition that was established many years ago, will continue far into the future.
Source: slingersuperspeedway.com