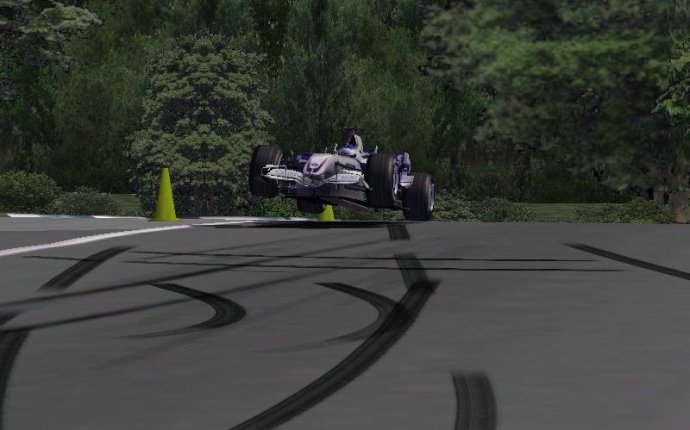 Limerock Track
Being a Grand Tourer racer is not for the faint of heart. Your ordinary sports car has been retrofitted under the hood to exist as a speed-demon. Pedal to the floor, maneuvering around a track at speeds up to 200 miles an hour causes different states of gravity to be experienced by the driver's body.
With g-forces coming at you from unusual angles, making hairpin turns at high speeds causes the steering wheel to often weigh twice as much as normal. Oxygen becomes a precious commodity in the suddenly-cramped driver's seat. Air becomes so thin that often the driver needs to wear a breathing apparatus, or else focus carefully on his breathing, or he will lose consciousness at the wheel. Coming to the end of a 50-minute round, the driver's concentration can flag and his body can tire easily.
And, of course, overshooting a turn, losing control of the vehicle and colliding with other cars going the same speed are constant dangers and reminders of the fine balance between life and death.
So it is this racer's internal drama, culled from young racers' experiences, and the excitement that GT racing provides to audiences watching the high-speed spectacle, that speeds into Lime Rock Park at 60 White Hollow Road in Lakeville on Memorial Day weekend.
For the expected 12, 000 racing fans not content to watch the festivities on CBS Sports broadcast, they can follow in a New England setting the current Pirelli World Challenge GT defending champion Cadillac racer Johnny O'Connell continue to ward off contender Porsche racer Patrick Long and other up-and-comers.
Muscle cars like Ferraris and Lamborghinis zoom will roar into the park's season opener featuring the Pirelli World Challenge, SCCA Pro Racing Formula 4, and the Sunday Royals Car Show occurring May 27 through 29. The Royals Show benefits the Lakeville Hose Co., Lakeville's fire department.
Rick Roso of Lime Rock Park described the upcoming Pirelli event as "colorful and fun."
"It is racing that is more sprinting than a marathon, " Roso added, referring to more traditional hours-long racing matches.
Grand Tourer, or GT, is a racing class wherein luxury sports cars, like Porsches and Cadillacs, have been specially refurbished within certain guidelines in order to hit high speeds in short times. At the Pirelli World Challenge, set up to celebrate these cars, Roso said about 25 vendors in multicolored tents along Lime Rock Park's midway will sell everything from banners to car memorabilia.
"Everything at the park is compressed into two days, " said Roso. "We have the racing, the autograph sessions, the food vendors, the Harpoon Tavern (bar & restaurant tent) – all of it only 50 feet away from the spectators' area."
Tom Blattler of the Pirelli World Challenge organization said the Lime Rock Track Pirelli series will feature 30 "muscle cars "and consist of four classes of vehicles: Grand Touring (GT), which includes Porches, Aston Martins (the class also includes GT3 cars, which must be based on production road car models in mass production); GTA (the amateur class); GT Cup (since 2015, for Porsche 991 Cup cars only); and GTS, which includes Camaros, Mustangs and other stock cars.
Blattler said two stars of the race each year are returning drivers Johnny O'Connell and Patrick Long.
"Johnny O'Connell is a legend in sports car racing, " said Blattler. "He has won the Challenge four times consecutively."
Source: www.countytimes.com