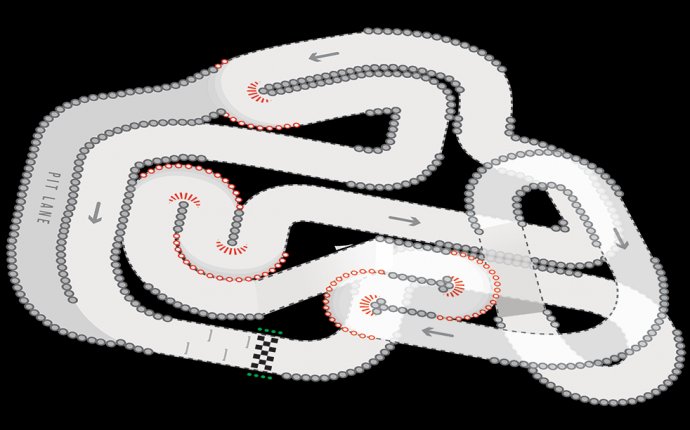 Race Track birmingham
Logo for the Birmingham Turf Club Program from the Birmingham Turf Club Logo for the Birmingham Race Course
The Birmingham Race Course (originally the Birmingham Turf Club) is a greyhound track which offers live dog racing and simulcast wagering for greyhound and thoroughbred horse races. It is located on Derby Parkway off John Rogers Drive in eastern Birmingham. It is operated by the Jefferson County Racing Association, headed by Milton McGregor.
History
Architect's renderings of the Turf Club grandstand and clubhouse building
The project was intended as a showcase for thoroughbred horse racing in the Deep South, expected to draw crowds from neighboring states for high-stakes parimutuel betting. Legislation making the enterprise possible was pushed through by John Rogers (earning him the honor of having the entrance road named for him). Other investors included Judy Thompson of Thompson Tractor Company, who served as the Turf Club's general manager and Sidney Smyer Jr.
Approved in 1985 and backed in part by municipal bonds for infrastructure to the site, the 275, 000 square-foot teal-accented clubhouse and other facilities were constructed over the next two years by Robins & Morton at a cost of $85 million. Architects for the project were Ewing, Cole, Cherry & Parksy, Inc. of Philadelphia, Pennsylvania. In addition to video-equipped indoor and outdoor grandstands, the clubhouse featured several lounges and an 800-seat white tablecloth restaurant dubbed "The Ascot". Georgia's Dogwood Stables brought as many as 30 horses to the Club's stables.
Ed Hall, director of the Birmingham Convention and Vistors Bureau reported that the project was expected to bring $250 million to the area in its first year, creating 1, 000 jobs and triggering investments in hotels and restaurants. In his opinion the Turf Club would be "as important to Birmingham as Disney World was to Orlando."1. Jockey Willie Shoemaker was hired as pitchman for the project, recording TV commercials on horseback from the track's winner's circle to air regionally.
Entrance facade of the clubhouse
The track opened to the public with the Birmingham Inaugural Stakes on March 3, 1987. Through 13, 000 fans came for the opening event, only 4, 500 showed up the following night, and the track never drew the large crowds and large wagers its backers expected, losing up to $100, 000 a day in the weeks following. A record crowd of 17, 562 for the inaugural Alabama Derby on April 11 proved to be the lone high mark.
Immediately the track's owners, as well as public officials who supported the project, tried to re-brand the Turf Club as "your course", acknowledging criticism that the track was perceived as elitist. Entry fees were dropped from $2.50 to $1.00 and billboards calling the facility "your track" were erected in less affluent neighborhoods. Nevertheless, by the end of its inaugural 175-day season the track had lost $50 million and the operators filed for bankruptcy reorganization in November 1988.
Source: www.bhamwiki.com