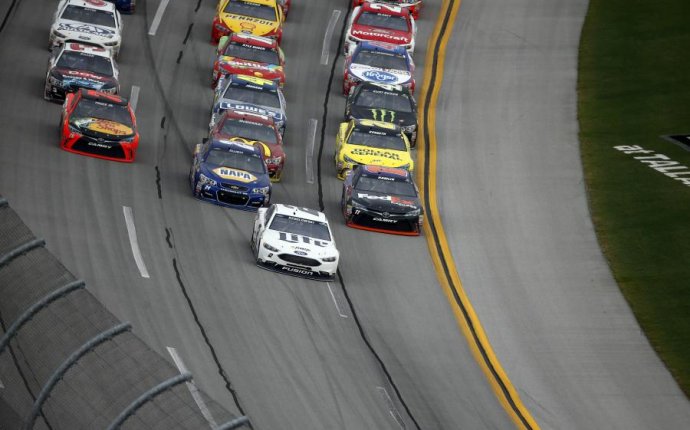 Sprint Cup Talladega Results
Pole-sitter Ricky Stenhouse Jr. won in overtime at Talladega in the GEICO 500, his first career victory in his 158th Cup Series race.
Jamie McMurray finished second, while Kyle Busch, Aric Almirola and Kasey Kahne rounded out the top five.
"This is for all the guys at the shop, " Stenhouse said in victory lane. "This year, every race we're getting better. We knew Talladega was a good track for us. I can't say enough about the guys. We've been terrible for a long time, but this year, we're getting better and better, and we knew Talladega was a good place for us. The car was so fast this weekend.
"It's been a long time since I pulled into victory lane. And a long time since we drove the pole."
Stenhouse, a two-time champion in the Xfinity Series, ended his Cup drought by passing Busch on the final lap.
Stenhouse also helped Roush Fenway Racing snap a winless streak, having not won since Carl Edwards won at Sonoma in 2014.
"It's been a long time coming, " Stenhouse said. "It's cool to have [team owner] Jack Roush back in Victory Lane."
AJ Allmendinger spun out Chase Elliott with 20 laps to go, creating a massive wreck. Allmendinger's car went upside-down, but he was able to walk away under his own power. At least 18 cars appeared to be involved in the wreck, including big names like Brad Keselowski, Austin Dillon, Kevin Harvick, Danica Patrick, Matt Kenseth, Joey Logano and Martin Truex Jr.
"It's just a bummer to be in an accident. We got stage points in the first round, and we were close in the second round. But everyone knows how these races go in the end, " Patrick said after she was knocked out due to the crash. "Everyone was driving really reasonable. Hard, but not stupid. It was pretty good, until the end. I was just in the wrong place at the wrong time."
Talladega fan-favorite Dale Earnhardt Jr. started second but ended up finishing 22nd. Earnhardt is racing in his final NASCAR season after announcing his plans to retire last month.
It doesn't appear any drivers were injured in the wreck.
Complete results
1. Ricky Stenhouse Jr.
2. Jamie McMurray
3. Kyle Busch
4. Aric Almirola
5. Kasey Kahne
6. Kurt Busch
7. Brad Keselowski
8. Jimmie Johnson
9. Paul Menard
10. David Ragan
11. Denny Hamlin
12. Kyle Larson
13. Ty Dillon
14. Clint Bowyer
15. Chris Buescher
16. Cole Whitt
17. Elliott Sadler
18. Matt DiBenedetto
19. Daniel Suarez
20. Gray Gaulding
21. Joe Gase
22. Dale Earnhardt Jr.
23. Kevin Harvick
24. Matt Kenseth
25. Ryan Newman
26. Brendan Gaughan
27. Corey LaJoie
28. Jeffrey Earnhardt
29. Landon Cassill
30. Chase Elliott
31. AJ Allmendinger
32. Joey Logano
33. Erik Jones
34. Michael McDowell
35. Martin Truex Jr.
36. Austin Dillon
37. Trevor Bayne
38. Danica Patrick
39. Ryan Blaney
40. Reed Sorenson
Talladega's 2.66-mile track is the biggest on the Cup Series circuit and is also the steepest with 33-degree banking turns.
Highlights
A big sendoff for a big day at @TalladegaSuperS ! #NASCARonFOX
— NASCAR (@NASCAR)
This is what makes Talladega so exhilarating.
Four-wide racing this early? Gulp. 😱 #NASCARonFOX
— NASCAR (@NASCAR)
NASCAR Cup Series points leader Kyle Larson scrubs the wall. Larson returned moments later.
Your points leader, into the wall early.
Pit road is open! #NASCARonFOX
— NASCAR (@NASCAR)
If you thought the NFL's pylon cam was cool, check this out.
The pack. Feel the speed. #NASCARonFOX
— NASCAR (@NASCAR)
Brad Keselowski wins Stage 1. Here are the top 10 finishers who will be awarded points.
1. Brad Keselowski Team Penske 10
2. Ricky Stenhouse Jr. Roush Fenway Racing 9
3. Kyle Busch Joe Gibbs Racing 8
4. Martin Truex Jr. Furniture Row Racing 7
5. Trevor Bayne Roush Fenway Racing 6
6. Joey Logano Team Penske 5
7. Paul Menard Richard Childress Racing 4
8. Danica Patrick Stewart-Haas Racing 3
9. Ryan Blaney Wood Brothers Racing 2
10. Erik Jones Furniture Row Racing 1
Denny Hamlin wins Stage 2. Here are the top 10 finishers who will be awarded points.
1. Denny Hamlin Joe Gibbs Racing 10
2. Kevin Harvick Stewart-Haas Racing 9
3. Ryan Blaney Wood Brothers Racing 8
4. Martin Truex Jr. Furniture Row Racing 7
5. Jimmie Johnson Hendrick Motorsports 6
6. Kyle Larson Chip Ganassi Racing 5
7. Kurt Busch Stewart-Haas Racing 4
8. Kasey Kahne Hendrick Motorsports 3
Source: www.sportingnews.com