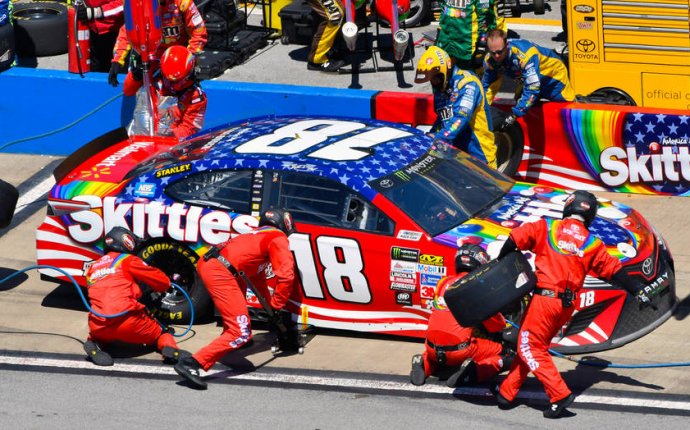 Racing this Weekend on TV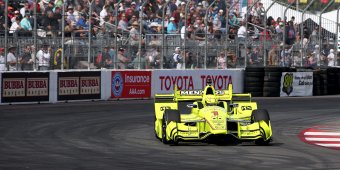 It's a hectic time of year at the Indianapolis Motor Speedway, with the Month of May just around the corner. Lots of energetic work for all of us as anticipation builds for May.
But we're racing fans, too. If it has an engine and wheels, we dig it. Just like you. And this weekend is one of the most bountiful motorsport cornucopias in 2017, with the Verizon IndyCar Series, NASCAR, Formula One, IMSA, World Rally, MotoGP and AMA Supercross all racing this weekend.
So ladies and gentlemen, tighten the coaxial cable on the back of your cable box, clear the obstructions from your satellite dish or reset your router for buffer-free streaming. This weekend is one of the wildest rides of the year for racing on TV, and we're going to offer a map – remember those, Google Maps addicts? — on how to navigate this long, winding road of motorsports madness this weekend.
First things first: There's so much good racing on TV this weekend that we're not going to try to navigate telecasts of practice and qualifying. Let's just talk about the main event for each series. Now, if you are a true petrol-fueled hermit with the most understanding partner in the world and zero real-life responsibilities or other hobbies, then let it rip with every second of televised action until your retinas bleed.
The fun starts at 1:30 p.m. (ET) Saturday with the NASCAR XFINITY Series race from Texas on FOX. There are very few caution periods in the schedule after this race takes the green, so use Saturday morning for house chores, the honey-do list, cooking, showering – you know, normal human things.
You'll get about no break from the end of the XFINITY Series race at Texas to the start of the IMSA WeatherTech SportsCar Championship race from Long Beach, which takes the green at 4 p.m. on FOX. That's regular FOX, not FS1 or FS2.
That telecast ends at 6 p.m., so come up for air – and maybe dinner – until the dirty fun of AMA Supercross from Seattle starts at 10 p.m. on FS1. Keep a few extra K-cups handy for your coffee brewer, as this telecast lasts until 1 a.m. on the East Coast.
Here's where the first litmus test – a true crossroads moment – of your status as a hardcore race fan will take place.
NBCSN's telecast of the Formula One Chinese Grand Prix starts at 1 a.m. from Shanghai. Do you wire yourself to the gills on Red Bull or coffee and stay up and watch the race until 4 a.m., or do you start your DVR and catch some ZZZ's?
Decisions, decisions.
I'll admit: I'm worthless and weak. Or just old. Take your pick. My DVR is set, and I'll watch F1 sometime Sunday night while trying to avoid social media and online news – good luck with that, Ace! – until I press the Play button.
The decision between sleep and speed caused the first conflict. But once lunch time Sunday arrives on the East Coast, there will be a serious clash of racing titans that will require some tough choices and a DVR that's raring to go.
beIN Sports provides unreal coverage of MotoGP events, with wall-to-wall coverage of the Moto3, Moto2 and MotoGP races, complete with pre-race and post-race coverage for all three. But sadly it's not a channel featured on many cable or satellite systems.
The extensive coverage of the Argentine Grand Prix goes from 11:55 a.m.-4 p.m. I'm lucky enough to get beIN Sports, but I plan on letting the DVR do the work here and catching later the always-exciting dicing and slicing on those lunatics who race at 200 mph with no roll cages or seat belts.
Like MotoGP, the World Rally Championship is another great series and form of racing that doesn't get enough respect or attention here in the States. Rally features 350-horsepower hatchbacks from Ford, Citroen, Hyundai and Toyota on public roads on all surfaces – asphalt, gravel, snow, mud. Competition takes place against the clock, with the winning driver compiling the lowest overall time in about 15-20 stages of lengths varying from 1 to about 35 miles.
The WRC offers insane driving skill and stunning visuals. And we're lucky as hell that Red Bull TV is producing excellent 30-minute highlight recaps of each of the three days of action from each rally.
Rally Corsica, an asphalt rally, takes place this weekend. Red Bull uploads its shows to Red Bull TV usually around 4 p.m. Eastern Friday, Saturday and Sunday. But I'll probably wait to watch this rally early next week since I can access the shows on Red Bull TV either through its free smart phone app, on my Xbox One through the Red Bull TV app or online at redbull.tv.
And now for the two heavy hitters of Sunday afternoon.
FOX's coverage of the Monster Energy NASCAR Cup Series race at Texas Motor Speedway starts at 1 p.m. Sunday, with the race taking the green flag at 1:30 p.m. I'll probably bounce between this race live and the final round of The Masters, especially during caution periods from Texas, until 4 p.m.
With my DVR whirring in the background for the Cup race, I will shift gears at 4:30 p.m. to NBCSN for the Toyota Grand Prix of Long Beach Verizon IndyCar Series race. Come on, man: It's Long Beach. The Indianapolis 500 is the Big Bopper of the year for IndyCar drivers, but everyone wants a Long Beach trophy, too. This is a must watch.
Then I'll quickly shift to CBS after the checkered flag flies at Long Beach, probably around 6:30 p.m., to see who will wear the Green Jacket at Augusta.
Yes, this schedule is ambitious. Yes, I may need to surrender some basic human needs – sleep, food, hygiene, just to name a few. But this is my plan for one of the greatest racing weekends of the year.
My DVR is set. My supply of beverages is stocked. My kids are onboard, even if they're not going to watch all of it with me.
Source: blog.ims.com