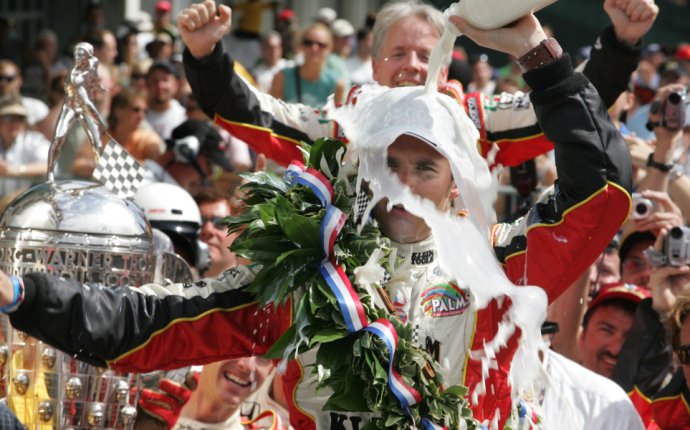 Indy Race Winners
INDIANAPOLIS — Three-time Indianapolis 500 winner Helio Castroneves watched from afar as NASCAR stars Jeff Gordon and Tony Stewart retired and Dale Earnhardt Jr. announced that he will step away after the season.
Castroneves is far from jealous. But he is definitely curious.
After all, there's no denying that Castroneves and fellow 42-year-old IndyCar driver Tony Kanaan are in the backstretch of their racing careers. Although no one is questioning their driving ability, age is always a factor in regards to sponsorship, so this could be their final Indy 500.
Neither expects that to be the case, but they are realistic and understand the inevitable is coming sooner rather than later.
"We don't want to think about anything in terms of hanging up the shoes or the steering wheel. We want to keep going until we achieve everything, " Castroneves said Thursday at Indy 500 media day. "But you always look at what's next and who's doing what and what's going to happen to you."
Castroneves acknowledged that walking away would be even tougher if he won a fourth Indy 500. The push then to become the first driver with five would be too great a challenge to give up.
"I don't think you can plan those situations very well, " Castroneves said. "I think it has to happen in the spur in the moment."
Kanaan's exit appears to be even more imminent. Earlier this season, team owner Chip Ganassi was noncommittal about Kanaan's future, saying only that IndyCar's Ironman has a future within the organization.
"I understand a lot of the situation it becomes sponsorship, and sometimes when you get to a certain age, the team has got to look for its own interest, " Kanaan said. "I've always said I am a professional race car driver and not always have raced where I wanted to race. But I am up for anything, and I still feel like I can deliver here. If I can, I would like to stay.
"But it's more than my choice, especially with the way sponsorship is these days. I am actually fortunate to drive for an organization that has different options. We haven't talked about it; I think it's a little early in the year to do so. But I can tell you one thing: I am not ready to say goodbye to IndyCar right now. But it's not in my control."
Here's the biggest issue with sticking around: Teams are always looking for the next rising star, a young driver with infinite potential behind the wheel and in front of the television cameras. So guys like Castroneves and Kanaan could end up like two-time Indy 500 winner Juan Pablo Montoya, who accepted a reduced role at Team Penske to make room for Josef Newgarden.
"If you don't get him now, you are going to lose him, " Kanaan said. "I could see that happening (with me). There might not be space for me to do a full championship because the team doesn't have it, but there will be a space to fill a car for me here because they know how good I am here.
"I can see myself coming back here for the next three or four years as a one off. That's not what I want. That's not what I would like to see. For all the success I had, for all the years I spent in IndyCar, I might want to come and say `This is my last year' like Tony (Stewart) did, like Jeff (Gordon) did, Dale is doing it. It doesn't necessarily have to be in January. It could be during the season, but I don't know."
No one does, which makes this Indy 500 even more intriguing for Castroneves and Kanaan.
Is this the end of an era? The changing of the guard? Like in NASCAR, those decisions disappoint fans and leave an entire series looking for the next wave of new guys.
"It's just the cycle right?" four-time series champion Scott Dixon said. "Some is choice and some is not by choice. You see it. The formula of racing has changed a ton where really good guys are having to find funding, which is crazy.
Source: www.courant.com