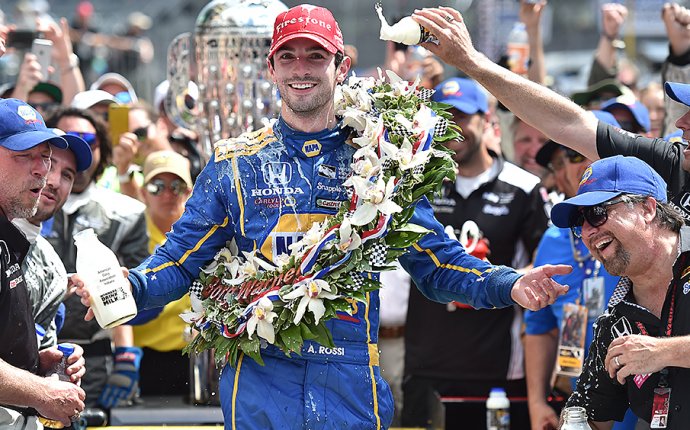 Indy 500 Race Results
Takuma Sato celebrates his victory in the Indianapolis 500.Darron Cummings/Associated Press
Takuma Sato had been close to winning the Indianapolis 500 before, but he never had a chance to see the finish line.
Instead of heartbreak at the Brickyard, Sato found the finish line and Victory Lane as he won the 101st edition of the Indianapolis 500 Sunday with a sharp drive in a race that saw a spectacular crash and numerous yellow flags.
ESPN F1 @ESPNF1
A well-earned pint of the white stuff 🥛 Takuma Sato wins #Indy500 number 101: https://t.co/chDjhRXi7s https://t.co/MCu1rzYwAn
2017-5-28 20:31:39
Sato made a bold move on the 196th lap, and that allowed him to pass three-time winner Helio Castroneves to take the lead.
Castroneves made several efforts to get back to the top spot, but Sato's car was too fast, and he would not give up his position.
1. Takuma Sato
2. Helio Castroneves
3. Ed Jones
4. Max Chilton
5. Tony Kanaan
6. Juan Pablo Montoya
7. Alexander Rossi
8. Marco Andretti
9. Gabby Chaves
10. Carlos Munoz
Castroneves had passed Chilton with seven laps to go to move into first place, and it looked like victory was in his grasp, but Sato was relentless in his effort to get to the lead, and he did not fail when he had the opportunity.
BBC Sport @BBCSport
The #Indy500 was littered with caution periods and included one huge crash involving Scott Dixon. Here's our report https://t.co/c0llI7F331 https://t.co/4WtbNtq0KL
2017-5-28 20:41:24
Early in the race, pole-sitter Scott Dixon and Jay Howard had a spectacular crash between Turns 1 and 2, leaving both cars in pieces. Howard hit the wall in Turn 1, and that forced him to lose control of his car. As he slid back to the low side of the track, Dixon hit the back of Howard's car, sending the pole-sitter's car into the air. The vehicle hit the safety barrier in the infield and then came to rest.
Amazingly, Dixon and Howard were able to walk away from the accident. Dixon was running in the top 10 after starting on the pole for Sunday, and while he was clearly upset by his early finish to the race, medical officials cleared him without any further issues.
Sato earned the victory for the Andretti Autosport team, and it was team owner Michael Andretti's fifth victory in the race.
Second-place finisher Helio Castroneves.Michael Conroy/Associated Press
"It's beautiful. I grabbed something I left over in 2012."
Sato went for the lead on the final lap of the 2012 race, but he crashed. That allowed Dario Franchitti to win that race.
This time there would be no such heartbreak for the 40-year-old Sato.
Sato held off Castroneves by 0.2011 of a second to win the race that featured 35 lead changes. Sato is in his eighth Verizon IndyCar Series season after driving seven years in Formula One, and he collected his second IndyCar victory. The average speed in the race was 155.395 miles per hour.
Source: bleacherreport.com