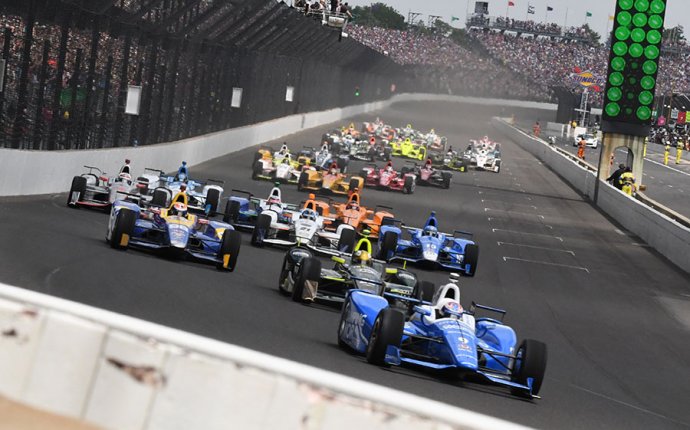 Indianapolis 500 Start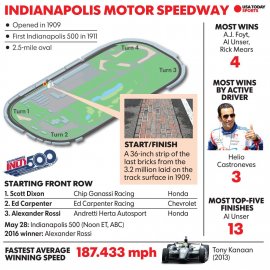 It's time for the 101st running of the Indianapolis 500 – "The Greatest Spectacle in Racing" – and we have a quick guide to key points in the pageantry.
GREEN FLAG: 12:21 p.m. ET. Actor Jake Gyllenhaal and Boston Marathon bombing survivor Jeff Bauman will share the duty.
TV/RADIO/STREAMING: ABC. Coverage begins at 11 a.m. ET. Radio coverage includes XM Satellite Radio channel 209 and SIRIUS channel 214. Also, you can listen online at IndyCar Radio. ABC/ESPN will live stream the Indy 500 on the WatchESPN app and online at WatchESPN.com.
RACE DISTANCE: The Indy 500 is 200 laps around the 2.5-mile oval, for 500 miles.
WEATHER: The National Weather Service is calling for a 60 percent chance of rain/thunderstorms with a high of 77 degrees. At sunrise, it was clear and cool at Indianapolis Motor Speedway.
DEFENDING RACE WINNER: Alexander Rossi, Andretti Herta Autosport.
POLE-SITTER: Four-time Verizon IndyCar Series champion Scott Dixon, whose average speed (232.164 mph) was the fastest in 21 years. He drives for Chip Ganassi Racing.
PENCE: Vice President Mike Pence – a native of Columbus, Ind. – and his wife Karen will attend, although Pence has stressed he wants to watch the race as a fan like he did growing up here and not draw attention from the race.
ALONSO: There is tremendous buzz around this race, in large part because two-time Formula 1 champion Fernando Alonso is skipping the Monaco Grand Prix – the F1 crown jewel – to attempt to win the Indy 500. He is going for the Triple Crown in racing. He's already won the Monaco Grand Prix and has talked about going for the 24 Hours of Le Mans in the future. This will be his first race in the IndyCar series and on an oval.
NATIONAL ANTHEM SINGER: Bebe Rexha
"(BACK HOME AGAIN IN) INDIANA" SINGER: Jim Cornelison, who sings regularly at Chicago Blackhawks games.
FLYOVER: Performed by B-52 Bomber with 69th Bomb Squad.
CELEBRITY PACE CAR DRIVER: Jeffrey Dean Morgan, or as many know him, Negan from The Walking Dead.
IN-RACE PACE CAR DRIVER: Sarah Fisher, who made 83 starts in the series from 1999-2010 and also co-owned a team.
IF YOU'RE GOING, GO EARLY: A crowd around 350, 000 attended the 100th running last year. While IMS has not announced a sellout, the addition of Formula 1 star Fernando Alonso certainly will bump up the crowd. So, don't dawdle Sunday morning. With Vice President Mike Pence also attending, there will be extra security, gate closures and it may take longer to access the speedway with bag checks, etc. Gates open at 6 a.m.
CLAUSON: Sprint car driver Bryan Clauson, who died Aug. 7, 2016, will be honored on the 100th lap. The Noblesville, Ind., native made three starts in the Indy 500, with a best finish of 23rd.
MILK: It has been customary for the winner to quaff milk in victory lane since Louis Meyer began the trend with buttermilk after his third win, in 1936. Emerson Fittipaldi famously broke from the mold when he won in 1993, opting for orange juice as he owned groves in his native Brazil. This angered many, including the American Dairy Association, which has been involved in the marketing of the celebration for years.
GOING FOR FOUR: Helio Castroneves continues his quest to win a fourth Indy 500, which would put him in rare company. Three other drivers have accomplished the feat: A.J. Foyt, Al Unser Sr. and Rick Mears.
Source: sports.usatoday.com