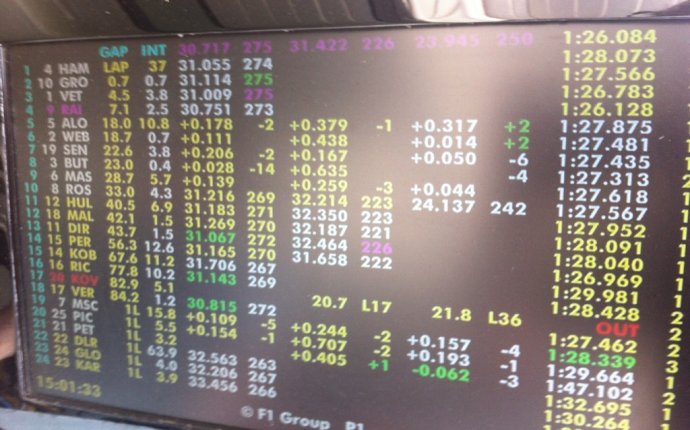 F1 Racing Times
The sixth round of the 2017 Formula One season brings to beautiful Monte Carlo, home of one of the most illustrious Motorsport races of the year - the Monaco Grand Prix. This weekend's festivities will not feature two-time winner Fernando Alonso (2006, 2007), who is skipping Monaco for the Indianapolis 500 (for more on the Indy 500, click here). Jensen Button will be coming out of retirement to race Alonso's McLaren car. He will start ninth.
The biggest takeaway from Saturday's qualifying session was Ferrari's . It'll be a Ferrari 1-2, as his teammate Sebastian Vettel, currently leading the world drivers' championship, starts second. The two are looking to break the trend of Mercedes winners. A Mercedes driver has won the last four editions of the Monaco Grand Prix. The last time a Ferrari driver won at Monaco? Michael Schumacher in 2001. Vettel can become the 16th driver to win at Monaco multiple times. Lewis Hamilton, currently in second in the standings, joined that prestigious group last season with dominant performance at the narrow street circuit. Hamilton, however, ran into some bad luck with his car and traffic and will start the race in 14th. His teammate, Valtteri Bottas will start the race in third.
The 75th Formula One Monaco Grand Prix will take place Sunday. if you're not watching the race from a yacht near the Rascasse corner or the casino/hotel balcony, here's how you can watch, stream at home.
How to Watch:
What: Qualifying for 2017 Monaco GP

Where: Circuit de Monaco, Monte Carlo

When: Sunday, 8:00 a.m. ET

TV: NBC

Stream: fuboTV and NBC Sports App for on-board, pit lane and highlight feeds

Follow: CBS Sports App

Starting Grid:
| | | | | |
| --- | --- | --- | --- | --- |
| 1. | Kimi Raikkonen | Finland | Ferrari | 1:12.178 (Q3) |
| 2. | Sebastian Vettel | Germany | | 1:12.221 (Q3) |
| 3. | Valtteri Bottas | | Mercedes | 1:12.223 (Q3) |
| 4. | Max Verstappen | Netherlands | Red Bull | 1:12.496 (Q3) |
| 5. | Daniel Ricciardo | Australia | | 1:12.998 (Q3) |
| 6. | Carlos Sainz Jr. | Spain | Toro Rosso | 1:13.162 (Q3) |
| 7. | Sergio Perez | Mexico | Force India | 1:13.329 (Q3) |
| 8. | Romain Grosjean | France | Haas | 1:13.349 (Q3) |
| 9. | Jenson Button | Great Britain | McLaren | 1:13.613 (Q3) |
| 10. | Stoffel Vandoorne | Belgium | | Crashed in Q2 |
| 11. | Daniil Kviat | Russia | | 1:13.516 (Q2) |
| 12. | Nico Hulkenberg | | Renault | 1:13.628 (Q2) |
| 13. | Kevin Magnussen | Denmark | | 1:13.959 (Q2) |
| 14. | Lewis Hamilton | | | 1:14.106 (Q2) |
| 15. | Felipe Massa | Brazil | Williams | 1:20.529 (Q2) |
| 16. | Esteban Ocon | | | 1:14.101 (Q1) |
| 17. | Jolyon Palmer | | | 1:14.696 (Q1) |
| 18. | Lance Stroll | Canada | | 1:14.893 (Q1) |
| 19. | Pascal Wehrlein | | Sauber | 1:15.159 (Q1) |
| 20. | Marcus Ericsson | Sweden | | 1:15.276 (Q1) |
Source: www.cbssports.com