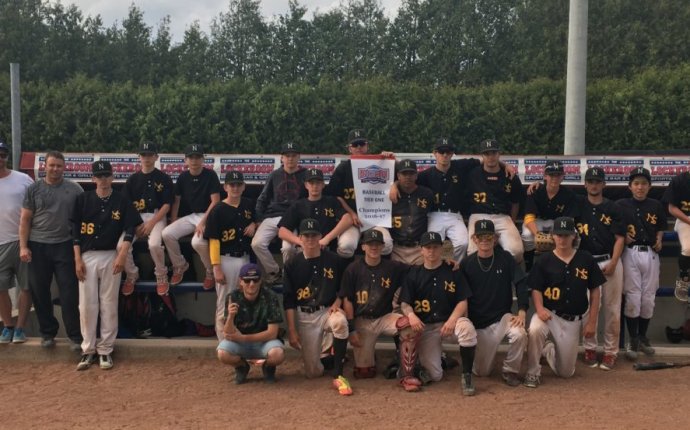 SCAA Sports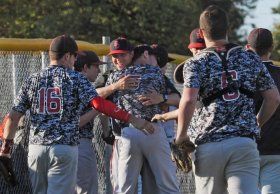 Bell City players celebrate after defeating Bernie 7-5 in the championship game of the Stoddard County Activities Association Conference Tournament on Thursday in Bernie, Missouri.
Josh Mlot
BERNIE, Mo. - When is a home-field advantage not an advantage? When the visiting team cashes in on your home field's perks.
The Bell City baseball team reaped the rewards of short fences at Bernie High School - about 335 feet to center field and 270 down the lines - by hitting three home runs, including a grand slam from Bobby Wright, to defeat the Mules 7-5 in a battle of state-ranked sides in the championship game of the Stoddard County Activities Association Conference Tournament on Thursday.
Bell City leadoff hitter Cole Nichols makes contact with a pitch during Thursday's game.
Top-seeded Bernie (14-4) also hit two homers, off the bats of Austin Beck and Owen Foster, but both were of the solo variety.
The second-seeded Cubs (14-2) scored all of their seven runs off of long balls, finishing with just six hits on the day.
"It is very disappointing when you have a chance to win a conference championship and don't get it done, " Bernie coach Darrin Shipman said. "It's disappointing for our seniors. But we just got outplayed. You've got to give Bell City a tip of the cap - they were better today.
"We gave up home runs. We missed on a couple of curveballs, and then [Wright] hit a fastball for a grand slam. We just didn't execute on a pitch or two and they hit them out. You've got to give them credit."
Bell City rallied from a 2-0 deficit in the top of the third inning thanks to Wright's grand slam. Wright never would have gotten to the plate were it not for an inning-opening error at shortstop, but instead the Cub catcher walked to the plate with the bases juiced after the error and a pair of walks. With two outs, he deposited a fastball over the center-field fence to go up 4-1. The visitors never trailed again.
Wright was 2-for-3 on the day.
"He's been swinging the bat real well for us, " Bell City coach Justin Simpher said. "I told him, 'Just don't try to do too much.' He's just been having good hacks and he was able to put a good swing on one and put one out of here."
Cole Nichols added a two-run blast with one out in the top of the fourth to make things 5-2, and Austin Hicks hit a solo homer in the top of the seventh for an insurance run that made things 7-4.
The short fences may have been temping, but the power surge was a result of taking the exact opposite approach at the plate, according to Simpher.
"My approach all the time is we're trying to hit the ball up the middle or the other way. We're never trying to do too much with it, " the coach said. "Sometimes that's hard for kids to do, but I didn't feel like we went up there trying to hit the ball out of the park, and they were able to put some good swings on, wait back and get ready to hit them."
The result snapped a three-year run of conference tournament titles for the Mules, who also handed Bell City an 8-0 loss earlier this season.
"We were more relaxed this time, " Hicks said. "It felt like early in the year we were still working out the preseason jitters. The mindset has been that we want to get back at them and show them a better game this time, and I feel like we were able to do that.
"It feels great to get our first [trophy] under our belt. They've won it the last three years and it feels great for it to change hands."
Hicks got the win on the mound for the Cubs, pitching a complete game while giving up five runs - four earned - on eight hits with five walks and three strikeouts. He battled through a couple of tight situations, including the final inning, when Bernie put the winning run at the plate.
The Mules opened the bottom of the seventh when Wyatt Barnett drew a walk in a 7-4 game, but Bell City eased the pressure by turning a double play to wipe the basepaths clean. Bernie continued to press, though, and Owen Foster launched a solo home run to right field to cut the deficit to two runs before Gavin Brown reached on an error in left field. Trey Kirkpatrick pushed the lead runner to third with a single to left, bringing up Dalton Hopgood with runners at the corners.
Hicks responded with a swinging strikeout on three pitches to end the game.
Hicks also stranded the bases full of Mules in the bottom of the fourth and rang up Beck looking with a runner at third to end the sixth.
"It wasn't his sharpest outing, and he'll tell you that, too - he talked about it after the game, " Simpher said. "But he battles, and that's what you want on the mound, even on the days that maybe it's not their best they're going to go out there and keep you in the game, and he did that.
"We just kind of watched his pitch count, but he said he was feeling good and he got some outs. It was one of those things where it was depending on what runners got on and what hitters came up, but we got to the last inning and it was kind of like, 'Well, it's his the whole way.'"
Bernie took a first-inning lead thanks to a little small ball, as Beck led off with a single to left before stealing second, moving to third on a sacrifice bunt and scoring on a groundout by Brock Beacham to go up 1-0.
Beck was 2-for-5 with two runs scored and one driven in on the day, while Foster went 3-for-4. Barnett was 2-for-2 for the Mules.
After the Cubs took the lead on Wright's grand slam, the hosts answered in the bottom of the third, when Beck hit a two-out home run to cut the gap in half, 4-2.
Nichols made it 6-2 in the fourth, but the Mules again battled back and took advantage of an error to creep closer in the bottom of the fifth.
Barnett hit a one-out single, Beacham walked and Foster lifted a single to left to load the bases. A ground ball off the bat of Gavin Brown plated Barnett, and Beacham then scored on an error, making the score 6-4.
Despite pressure from Bernie, Bell City held on to win the tournament.
"I told the kid there was no doubt that we battled really hard and we gave ourselves a chance, " Shipman said, "we just didn't get that real big hit that we needed to. That's baseball."
Beacham took the loss on the hill for the Mules, going 3 1/3 innings and giving up six runs - two earned - on four hits with six strikeouts, three walks and a hit batter, giving up two home runs.
Alex Guzman threw the final 3 2/3 innings in relief, allowing one run on two hits with two Ks and no walks.
Bell City is currently ranked No. 1 in Class. Bernie is No. 5 in Class 2.
| | | |
| --- | --- | --- |
| Bell City | 004 | 200 |
| Bernie | 101 | 020 |
WP - Austin Hicks. LP - Brock Beacham. 2B - Nate Finney. HR - Bobby Wright (BC), Cole Nichols (BC), Hicks (BC), Austin Beck (B), Owen Foster (B). Multiple hits - Bell City: Wright 2-3; Bernie: Beck 2-4, Wyatt Barnett 2-2, Foster 3-4.
Source: www.semissourian.com