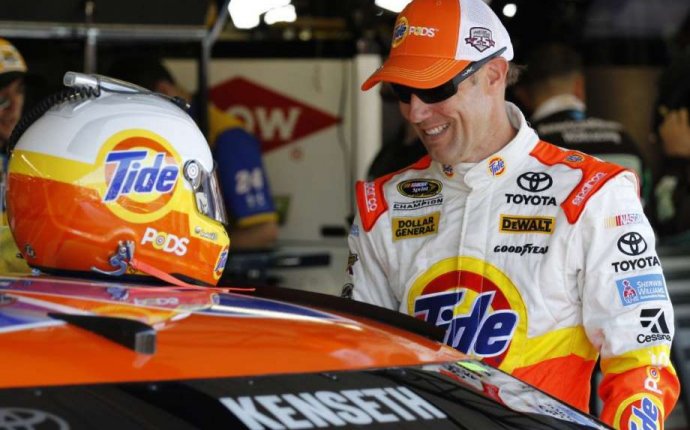 Auto Racing History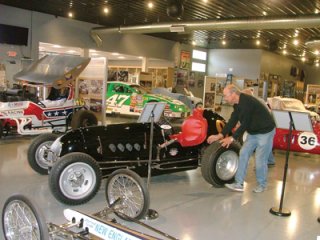 Dick Berggren, president of the North East Motor Sports Museum, pushes a Sprint Car into position at the North East Motor Sports Museum in Loudon. (Roger Amsden photo for the Laconia Daily Sun)
By ROGER AMSDEN, for THE LACONIA DAILY SUN
LOUDON — The North East Motor Sports Museum has yet to officially open its doors. Yet there's already a buzz that the treasure trove of short-track racing history in New England is destined to get even bigger and better in the not too distant future.
President Dick Berggren, a longtime national television race reporter and an owner and contributor to Speedway Illustrated, said so many people want their cars exhibited at the museum that there's a long waiting list, which has him eyeing an 8, 000-square-foot expansion to the 10, 000-square-foot facility built near the southern end of New Hampshire Motor Speedway.
The museum is slated to open to the public on June 12.
He says that the project, 10 years in the works, came about as the result of a conversation with the late Vic Yeradi, who used to oversee New Hampshire Motor Speedway's Vintage Celebration and had a large collection of open wheel race cars.
"He told me we were losing our history and needed a museum to keep it alive, " said Berggren, who through all his years as the lead pit reporter for Fox Sports never lost touch with his oval racing roots.
When he stepped down in 2012, he said "I've always traveled to local tracks where I still enjoy sitting in the stands with a hot dog in one hand and a beer in the other, watching the local heroes. I can't get enough of local level racing so I'll do more of that now."
Berggren said he traveled to auto museums all over the country to see how preservation efforts were doing and absorbed one valuable lesson.
"Take on no debt, people told me, " he said, "and that's what we're doing here. Thanks to something like 500 contributors and lots of donated materials and labor, we'll be opening to the public on June 12 with no debt. And it won't be long before we expand so we can have more room to show more cars."
The 20 or so which are on display already are very impressive. There's a Lotus driven by businessman Bill Binnie, a two-time winner of the 24 Hours of LeMans, and the Ford Mustang which Joey Lagano drove to victory in the Daytona 500 in 2015.
There's also a display honoring Pete Hamilton, the first New England driver to win a Daytona 500, who took the checkered flag in 1970 while driving a Plymouth for Richard Petty's team. Hamilton, who died in March at the age of 74, also won both races at the Talledaga Speedway the same year.
One of the cars on display has a special significance for Berggren, the Spirit of 76 super modified, which was sponsored by the Mug Restaurant in Center Harbor. Berggren raced the car, which was built in Meredith by Dave Bennett, Skip Ambrose, Jim Caverly and John Berry and made its debut in the spring of 1975 at the Beech Ridge Speedway in Scarborough, Maine. Other drivers included Bobby Turner, Jerry Dolliver, Lee Smith and Dick McCabe. Dolliver was the only winner with the car in its original configuration. Bennett upgraded it in 1990 and won three feature races that year in Rumney.
The car was stripped and set outside for 20 years before it was restored. Pete VanSneiden started the restoration, which was completed by Jim Martel and his son. Scott. Other contributors were Gene Trask, welding; Justin Belfiore, graphics and lettering; Kevin Macorelle, machine work and Scott Heil, who saved the original bodywork and painted the car.
Another historic car is the number 33 Cody family Coke machine, which was built by Don Carey at the Keene Coca-Cola bottling plant and was driven to Claremont Speedway championships in 1957 and 1958. The car was sold to Henry Merrow in 1961 and he made Art Cody his driver. The car then won championships in Claremont and at Fairhaven and Vergennes tracks, both in Vermont, in 1963.
When overhead valve engines made the car obsolete, it was parked in a field for 26 years before Art Cody in 1995 cut down the tree which had grown through the rear window and took it home to restore it. What remains today is the original car except for the engine and radiator.
The museum also contains two cars owned by Ray Boissoneau, who owns 32 race cars and is the largest collector of historic New England race cars.
Boissoneau, who grew up in Laconia, has been an auto racing fan since the 1950s, when he used to watch races at the old Gilford Bowl, which was located near the Laconia Airport. He recalls towing his soap box derby car to which he had affixed a Briggs and Stratton engine to the race track with his bicycle and then taking spins around the track on off nights.
"The police used to stop by and see what I was up to. But they said I wasn't doing anything wrong and left me alone. I can't imagine that happening today, " he says.
Boissoneau, who is the curator at the track, has a midget racer which was driven by Joe Sostillo, a legend in the midget racing world from the 1930s through the1960s, and was restored by Joe Fourie. "It was a basket case when he got it but he was able to bring it back to what it looked like when it was racing, " says Boissoneau. He also owns a car driven by Johnny Thompson, a national champion in midgets and sprint cars.
He says that he is driven to collect the vintage race cars by the knowledge that much of what he grew up with is being lost to history.
"When a race car driver dies, his stuff, the trophies, the scrapbooks, the helmets and the racing gear is put out in the trash. I would drive to those streets on pickup days just to see what I could save, " he said.
Boissoneau has raced in Loudon since it was Bryar Motorsport Park and has also taken part in the he 24 Hours of Lemans, and the road course in Monaco. He's competed in nearly every class of racing and won a number of trophies, but today he limits himself to the vintage races at the Speedway.
The museum will be open on Saturday and Sunday, June 10 and 11, to paid museum members and those with free admission coupons from the Gypsy Tour. Hours are 10 a.m. to 4 p.m.
From Monday, June 12 through Sunday, June 18, the museum will be open from 10 a.m. to 4 p.m.
Motorcycles are part of the display and are headlined by Eddie "The Savage" Sarno's big-engine Buick powered drag bike, a fearsome homemade rocket on two wheels.
Source: www.laconiadailysun.com