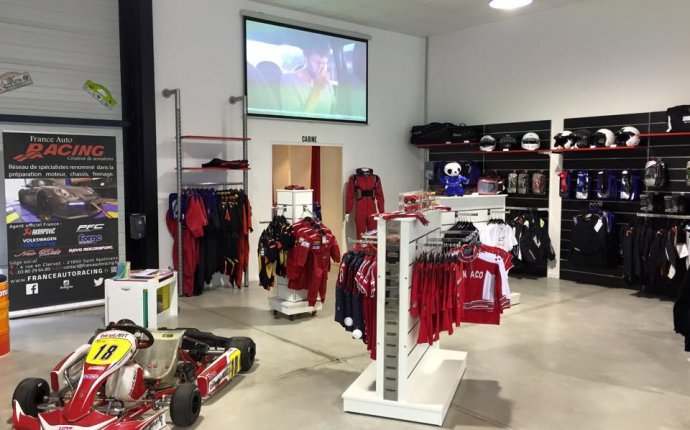 Auto Racing Store
Three generations of sprint car champions have dedicated years of their lives to running a specialty sprint car racing shop in Campbell.
The Kaedings, including patriarch Howard, his son Brent and Brent's two sons, Bud and Tim, are all immersed in the world of sprint car racing.
"I've been around it my whole life, " said Brent Kaeding, who grew up watching his dad and his uncle Herb race.
Kaeding's Performance, located on Cristich Lane next to Highway 17, consists of a retail store and a warehouse filled with sprint car pieces and space to maintain vehicles.
"We sell everything from the floor up here, " said Bud Kaeding. "You could walk in with a checkbook and walk out with a car. … We sell every piece."
The business ships out at least 15 packages of parts each day, mostly to Australia, New Zealand and across the U.S.; only about 2 percent of the business is made by walk-ins, Bud said.
Howard moved to the Campbell area from Nebraska in 1939 at age 6 when the land was mostly grassy fields, farmland and vineyards.
"It was a different world, " he said.
From first through 10th grade, Howard attended 10 different schools, as his father, a farmer and physiotherapist, followed the harvest. Howard learned the ins and outs of cars while working with his dad.
"All farmers were to some degree mechanics, " he said. "You might not know about it, but you gotta fix it."
Howard began driving when he was 15 years old. He raced with his peers on Campbell Avenue before San Thomas Expressway existed.
In the early 1960s, Howard and his brother Herb started a wheel widening and repair business for Super Modifieds. In the 1970s, Howard's sons Joel and Brent Kaeding joined the family business, which was renamed Kaeding Performance in 1976, Brent said. The Kaedings began selling sprint car parts and oval track parts in the 1980s.
"The times evolved, things were changing, so we changed along with it, " Brent said.
The shop became a specialty store for sprint car racing in 2005 after a grass fire that originated near the freeway destroyed much of the shop and the automotive repair equipment was too costly to replace.
"You work 50 years for something and in one afternoon it disappears, " said Howard, who lost many racing mementos in the fire.
However, there was a positive side to the tragedy, according to Bud, who estimates that the sprint car portion of the business has tripled since the fire.
Today, much of Kaeding's business consists of maintaining sprint cars for other people, something that Brent started doing about 10 years ago, Bud said. Right now, the Kaedings are maintaining a sprint car for an Australian man who visits California to race a couple times a year.
"All he has to do is show up and race the car, " Bud said.
Howard describes himself and his family as "raceaholics." He himself started racing in 1954 at age 23.
Howard won 23 races in a row at the San Jose Speedway in the early 1970s–17 of those wins were accomplished with the No. 3 car–the most of anyone in the history of the racetrack. The car was inducted into the Knoxville Hall of Fame about three years ago.
"The promoter at the race track at the time wrote me a letter that said I was ruining racing, " he said with a smile.
Howard, 81, raced cars for 45 years and retired at age 65. He still attends races and spends the bulk of his time at Kaeding Performance. The Howard Kaeding Classic is held annually in his honor in Watsonville in July.
Brent raced for the first time at age 22 after he put together a sprint car for a customer who decided he wasn't ready to race.
"He asked me if I wanted to drive it, so I got in, " he said.
Brent, who still races about 30 times a year and has won about 25 championships around the state of California, competes mostly on the local level. His first race of the year will be April 12 at Tulare Thunderbowl Raceway.
"All three of us have been very successful racing, " he said of himself and his two sons.
Bud and Tim started racing quarter midgets, automobiles used for racing that are about one quarter the size of a midget car, when they were 7 or 8 years old, Bud said.
"It was every weekend of our lives, " he said, adding that as a kid, he'd watch his father and grandfather race on Fridays and Saturdays; he would race on Sundays and then spend the rest of the week preparing the cars for the next weekend.
Tim, who was on a two-week stint racing in Australia from Feb. 18 until March 3, has been a professional sprint car driver for the past five years.
"I'm like a rock star. I get to travel but I don't make that much money, " he said in a phone interview.
This year, Tim expects to drive in about 100 races in the U.S., Australia and Canada as part of a race team sponsored by Dennis and Theresa Roth of Fresno.
"They gave me the greatest opportunity of life, to enjoy something that I love and live my dream finally, " he said.
Bud, who competes in about 70 races a year, returned from racing in Australia on Feb. 8. During the winter months, many American sprint car racers travel to Australia to compete, he said.
"It's really big over there, " Bud said, explaining that the sprint car fervor there is comparable to the popularity of the sport in California a quarter of a century ago.
"I have pictures from when I was a kid going to the races in San Jose and there'd be 6, 000 people at a race every Saturday night, " he said. "You don't see that anymore."
San Jose Speedway closed in 2000. Now, the closest track is at the Santa Cruz County fairgrounds in Watsonville, he said.
Source: www.mercurynews.com