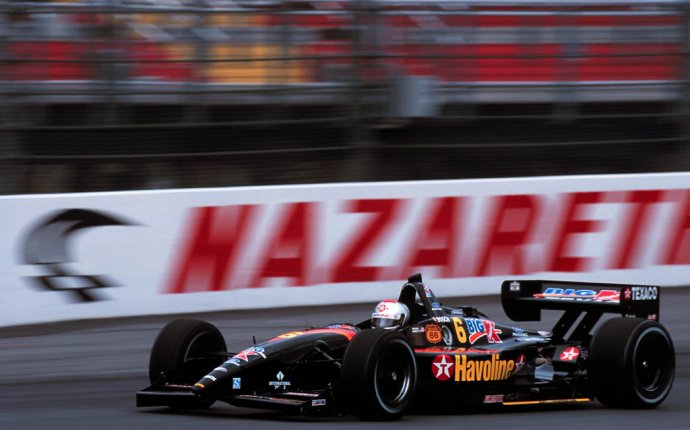 Andretti Michael
Lots of people would say that the thought of watching 33 race cars go 200 laps in circles around the Indianapolis Motor Speedway was not very appealing.
What do you suppose they'd think about ONE car going round and round all by himself for hours?
Two-time Formula One world champion Fernando Alonso did just that earlier this month as his first test in an Indy car and it is estimated that two million people worldwide caught at least part of it via a live Internet feed.
"We knew he was going to get a lot of attention, but did I expect two million people to watch him just going around by himself, in a test? No way, " Michael Andretti, owner of the team for which Alonso will drive in the 101st Indy 500 on May 28, said recently during a telephone interview that wasn't limited to race talk.
The 54-year-old son of legendary Mario Andretti said he will have "six really good bullets in the gun" for the Memorial Day Classic.
Michael Andretti's team, Andretti Autosport, is making its biggest assault ever on the Indy 500, a race the Andretti family has won only once as a driver — Mario in 1969 — but which Michael has won four times since becoming a team owner in 2003.
While admitting that he "can't even imagine what it would be like" to share victory circle with his 30-year-old son, Marco, Michael has gotten lots of satisfaction from victories by Dan Wheldon (2005), Dario Franchitti (2007), Ryan Hunter-Reay (2014) and Alexander Rossi (2016).
But if Andretti Autosport could pull off a second straight Indy-rookie win with the popular Alonso and the returning McLaren name, it would likely blow away the Rossi feat.
"Everybody is very excited to have him as part of the series, including the competitors, " Michael Andretti said. "Everyone realizes how big this is for the rest of the series. This isn't just about Andretti. This is about auto racing in general. It's good for Formula One, good for IndyCar, good for us and good for McLaren as well."
Just as a partnership with Bryan Herta Motorsports was instrumental in Rossi driving for Andretti last year, the McLaren-Honda partnership for Alonso and a Michael Shank Racing partnership for Jack Harvey have helped make possible the six-car effort by AA this year.
But it's very possible that no driver except Alonso could have caused such a worldwide stir, and Andretti said, "The guy has an amazing following. On top of it, what I really enjoy is that as a person, he's been really a joy to work with so far. I'm hoping he has a good time here and wants to come back one day."
Alonso and Andretti hadn't met prior to the arrangement.
"I met him just by phone when we were putting this all together, " Andretti said. "He's been a lot different than what I was expecting. He's down to earth, not stuck up in any way. He doesn't have that Formula One European aura. He's just flat out a good guy and he's a flat-out racer. He's doing this because he's a racer. He's not doing it for any other reason and you have to love and respect him for that."
While keeping tabs on the six pack of cars he's entered at Indy, Michael has also taken care of a piece of business that he said he had been putting off for the last three years
"I'm good. I got it done, but I was one of those guys, " Michael Andretti said. "I knew I should do it, but I had been putting it off. It's like, OK, I'm going to do it … next week … whenever … whenever … and I just kept putting it off.
"When this happened with John, I thought, this is stupid, I'm going. Once I did it, it was like it's not a big deal; why didn't I do this three years ago when I should have done it. So, I'm one of the guilty ones. Luckily, I came clean, but had something been wrong, he may have saved my life."
Michael and John Andretti are separated by only five months in age – Michael is older – and have shared the same passion for racing that their fathers, twins Mario and Aldo, have had for most of their 77 years.
"He's hanging in there; he has a tough fight ahead of him and he's fighting it hard, " Michael Andretti said of John. "A lot of people don't make it for 12 treatments of the chemo, but he's working hard to do that because, if he can, it helps his prognosis that much more.
"You know how John is, a very private person. This is a difficult thing for him to be sharing with everybody, but he's doing it because he's so upset at himself because here he is fighting something that could have been prevented had he gone even a year ago. From that standpoint, he's like, don't be stupid like I was, go and get it done. He's had an overwhelmingly positive response. What John's doing here is going to save lives."
Michael will also find time to be thinking about cousin John. From 1988 to 2011, John raced in the Indy 500 12 times, and the last two were in partnerships between Andretti Autosport and NASCAR legend Richard Petty.
Retired sports columnist Paul Reinhard is a freelance writer.
ANDRETTI AUTOSPORT WINS AT INDY
Alexander Rossi (2016)
Ryan Hunter-Reay (2014)
Dario Franchitti (2007)
Dan Wheldon (2005)
2017 INDY 500 ANDRETTI AUTOSPORT ENTRIES
26 Takuma Sato (Andretti Autosport)
27 Marco Andretti (Andretti Autosport)
28 Ryan Hunter-Reay (Andretti Autosport)
Source: www.mcall.com