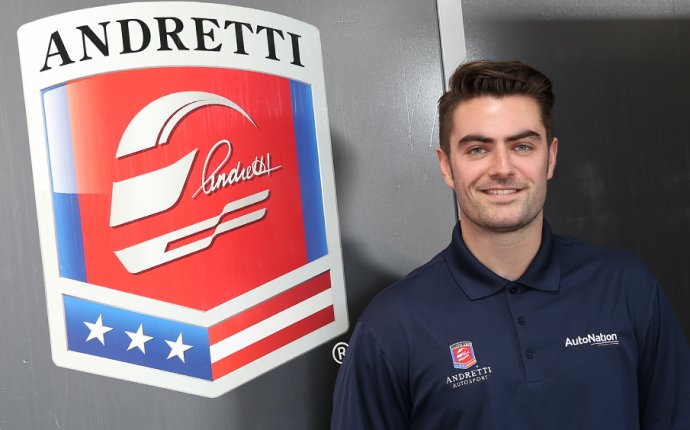 Andretti Autosport
Honda Performance Development will investigate the cause of four seemingly different problems with each of the Andretti Autosport IndyCar teams on Sunday during the Toyota Grand Prix of Long Beach.
The Michael Andretti-led squad endured a disastrous day in Southern California, with four DNFs that left each car outside of the top 15.
The first to fall was Michael Andretti, who stalled his No. 27 on lap 14 and cited a sensor issue as the culprit. Then came contender Alexander Rossi, who suffered an obvious engine failure on his No. 98 on lap 62 from inside the top 5.
Takuma Sato was running outside of the top 10 when his No. 26 inexplicably lost power on lap 78. Finally, Ryan Hunter-Reay was running second to eventual winner James Hinchcliffe when he, too, stalled his No. 28 with five laps to go.
Hunter-Reay was visibly frustrated on pit road after the race and wasn't totally sure what to make of the Andretti problems.
"I don't know what happened, " Hunter-Reay said. "It was something electrical. I tried cycling the car a few times and it didn't fire. Then, once we had sat (in the runoff) for a few moments, we tried flipping a few switches and it fired back up again but it was too late to rejoin the race.
"It felt like the same issue we had at Pocono (2016). It really hurts when it's that close to the end and I was closing on (Hinchcliffe); we were going to have a good showdown there at the end. That's why this sport can be so rewarding and so cruel, there's nothing you can do. Frustrating, for sure, but today it was out of our hands."
While all four Andretti cars failed to finish the race, Rossi was the only driver who suffered an engine failure. His car was leaking fluid on the track while each of his teammates endured electrical issues.
"Rossi has nothing do with us, " Hunter-Reay said. "Rossi's was a catastrophic engine failure."
An HPD spokesman did not have an immediate statement in reaction to the problems but said an investigation will take place.
"We're investigating the cause of the failures and will then take the appropriate countermeasures prior to the next race at Barber Motorsports Park, " the spokesman said.
It's especially unfortunate for both Hunter-Reay and Rossi, who seemed destined for a podium in the second half of the event.
"I thought we had a really good shot at winning, " Rossi said. "The pace of the car was really good all day and we were able to recover from a little bit of a tricky pit stop sequence on the first stop, so it's unfortunate because the NAPA Auto Parts car was awesome.
Source: autoweek.com