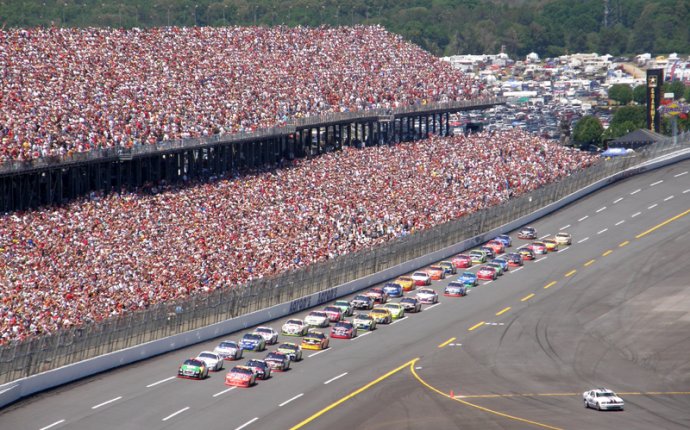 Nextel Race
It was a poignant and momentous year for NASCAR fans. Bobby Labonte roared home in the Ford 400 at the Homestead-Miami Speedway on November 16, 2003 to win NASCAR's last-ever Winston Cup race. Matt Kenseth rolled up 5, 022 points that year to become the last NASCAR Winston Cup Champion ever. It was the end of an era as NASCAR made a major move to keep up with the changing social climate.
Thanks for the Memories
RJ Reynolds Tobacco Company befriended NASCAR back in 1971.
They teamed up together in an almost too-good-to-be-true sponsorship targeting Southern fans who loved both their tobacco and their fast cars. RJ Reynolds paid millions of dollars in post-season awards in the ensuing years and gave out millions more with the Winston Million — yes, named after the cigarette brand — and its No-Bull programs. It paid yet more millions in sponsorship of The Winston All-Star race and individual race teams. Winston and NASCAR were good for each other.
What Happened?
Eventually, NASCAR reached the point where being associated with Winston was holding it back. Tobacco advertising became severely restricted in the nineties and even more so with the dawn of the Millennium. Strict legal limits were placed on where the Winston cigarette brand could be shown. These limits affected NASCAR's ability to market and strengthen its primary product.
A divorce between NASCAR and RJ Reynolds became inevitable, although some reports have the tobacco company pulling the plug first.
After all, the company was putting out massive dollars in exchange for publicity and advertising that was becoming more limited by the year, if not by the hour. That certainly wasn't NASCAR'S fault — the blame fell more to federal legislation — but the bottom line was that RJ Reynolds was no longer getting what it was paying for, specifically Winston images as far as the eye could see at every racetrack.
A Whole New World
Enter NEXTEL, one of the first cellphone providers in the U.S. Cellphones were much more politically correct and acceptable by 2004 than cigarettes and tobacco products. NEXTEL brought no social baggage to the NASCAR brand. The company purchased the rights to what had once been the Winston Cup series.
Now that tobacco has been removed from the equation and advertising restrictions no longer apply, hordes of young NASCAR fans can be aggressively targeted for marketing. NASCAR can freely advertise their top series to teens and even children. Toys, video games and Hot Wheels cars bear the correct 2004 NASCAR/NEXTEL Cup logo rather than the generic solo NASCAR logo that was in place for a short hiatus between the last Winston Cup race and the official onboarding of NEXTEL.
Now What?
If NASCAR was an advertising machine before — at least as much as federal legislation would allow after tobacco became villainized — an all-out blitz occurred after the marketing handcuffs came off. Attendance and TV ratings had flattened out a bit by 2003, but NASCAR has pushed hard since to reach a younger demographic and it's thriving.
Some changes were relatively swift in coming. The Winston Cup series became, of course, the NEXTEL cup series, then NEXTEL merged with Sprint and now we have the Sprint Cup series.
Changes — most of them safety-oriented — came about, but they were bound to happen anyway with the passage of time and improvements in technology. The sport took on anti-tobacco legislation and issues political incorrectness and plowed past them without barely a hiccup.
There's no doubt that Winston was great for NASCAR, and RJ Reynolds certainly has its place in history. But I'm excited for the opportunities that NEXTEL represents as we race forward through the 21st century.
Source: www.thoughtco.com