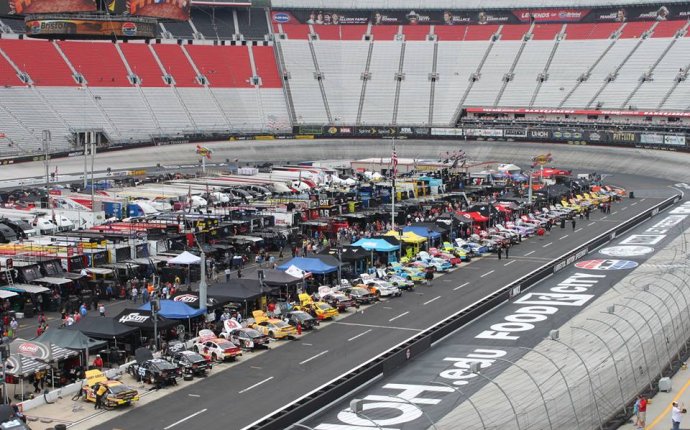 Next Bristol Race
BRISTOL, Tenn. – Kurt Busch remains the active leader in NASCAR Monster Energy Cup wins at Bristol Motor Speedway along with brother Kyle as both drivers boast five career triumphs at the track.
Past success, however, is becoming quite distant for the elder Busch, who hasn't won at Bristol since 2006.
Busch's success at BMS came under the old bump-and-bang setup, and for the second straight race, speedway officials plan to apply plentiful amounts of a sticky compound resin known as VHT to the oval's lower groove in an effort to entice drivers down the track.
"We had a shot to win in the fall race and I tried to hook the VHT a little too aggressive and actually spun out while leading, " he said. "I felt pretty low after that moment and that's the thing that you have to learn from and adjust to and come back the next time around and apply a strategy that will help us get to Victory Lane."
With wet weather in the forecast for the weekend, questions are already rising over whether the VHT will be effective. Busch said it'll be tough to rely on the extra grip from the VHT if the track doesn't stay dry.
"If it's applied properly, which I assume it will be, water won't get underneath it or there won't be any type of moisture issues with it, but, yes, it's tough to trust, it's tough to predict because we don't run on it all that much, and a track like Bristol you need to rub it in, it needs to get groomed in and with the lack of practice time we might have, it might not be as consistent as we want it to be, so you've got to just ease into it, " he said. "You can't quite trust it right away."
While supporting the track's attempt to reopen the lower groove to competitive racing, Busch said there may be a better way to address the problem.
"I like the attempt with the VHT, but you can tell they're in the direction of trying to find grip, " he said. "Well, what does that mean? We should just have a tire that would have more grip."
A morning rain and the threat of more afternoon storms altered the schedule at BMS on Friday as both Cup and K&N qualifying were wiped out.
Drivers, however, in the end still got to hit the track during an early afternoon window of clear skies as the Cup, Xfinity and K&N series each got in one practice session.
Rookie Erik Jones paced the Cup practice, turning in a fast lap of 15.009 seconds at 127.843 mph. He was followed close behind by Kyle Busch, Ryan Blaney, Martin Truex Jr. and Matt Kenseth.
Chase Elliott had a spin across the start-finish line, while Joey Logano brushed the wall during the Cup practice session.
"It just went straight to the wall, " Logano said. "It's amazing how quick it did that. Unfortunately, we got a little damage to our AutoTrader Fusion, but it's nothing that's not fixable. … We'll be just fine."
Source: www.roanoke.com