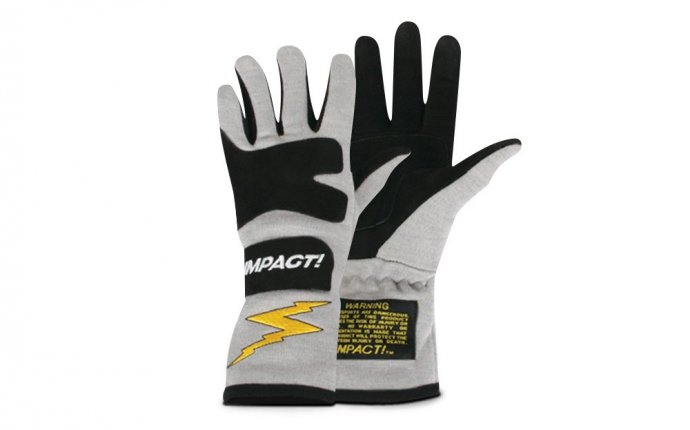 Impact Racing Gear
We're pretty sure things got quite exciting at the offices of Impact Racing on Friday, when the foundation used by most racing organizations to certify safety gear announced they were decertifying Impact Racing's products.
According to SFI's statement (the full text of which may be obtained via this PDF),
Evidence obtained by SFI shows over a period of years Impact Racing has engaged in the production and use of counterfeit SFI conformance labels and patches, and affixed them to Impact products for use in motorsports. Under the Contracts of Participation between SFI and Impact, SFI conformance labels and patches may only be obtained from SFI and no other source. Evidence shows Impact had counterfeit SFI labels and patches made in Asia and then affixed them to Impact products it distributed to members of the racing community. To SFI's knowledge, Impact never advised its customers its products contained phony SFI labels and patches. Impact never advised SFI of its systematic and longstanding practice of counterfeiting and distributing SFI patches and labeling.
Meanwhile, Impact Racing, the company founded by Bill Simpson after he left Simpson Performance Products in the wake of the ugly debate over the possible role of Simpson belts in Dale Earnhardt's fatal crash, has issued this statement on its website:
SFI has posted on the Internet an Announcement effective April 27th our products will be decertified. Impact is legally challenging this proposed action by SFI. Impact strongly disagrees with the statements on SFI's website. This is a dispute over SFI tags. Our products are certified. They are safe, and we stand behind them.
We can assume emotions (and lawyer fees) will be running high tomorrow morning as the combatants prepare to do legal battle. Meanwhile, racers who use Impact safety gear are wondering what's going to happen at the tech inspection at their next event. My personal racing gear is sort of a mix-and-match deal; I use an RCI Nomex suit, G-Force gloves, Simpson shoes… and an Impact Racing Helmet (see photo, above). Damn! Along with the thousands of racers currently using Impact gear, I hope this mess gets resolved before I need to put my brain back in that bucket.
Source: jalopnik.com