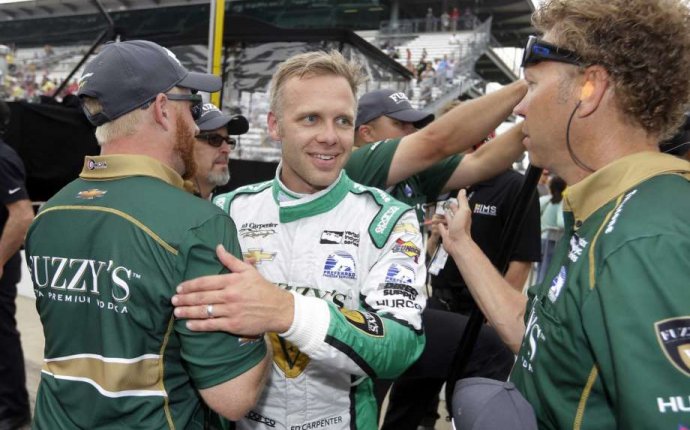 Indy 500 Qualifying Times
The New Zealander finished with a qualifying speed of 232.164 mph, the best since Arie Luyendyk's track record of 236.986 in 1996. Dixon's first lap of 232.595 also was the fastest since Luyendyk's record lap of 237.498 in 1996.
The Chip Ganassi Racing driver will be joined on the front row by Ed Carpenter, a two-time pole winner who finished second at 231.664. Defending race champion Alexander Rossi of Andretti Autosport will start on the outside of Row 1 after going 231.487.
Fernando Alonso will start fifth in his first oval race next Sunday. The two-time Formula One champion averaged 231.200.
It's the first time in this season's six races that a Penske driver didn't win the pole.
And it took some guts to end the streak.
"We knew the conditions were much better today and we took a little bit of a gamble in trimming out, " a giddy-looking Dixon said even before qualifying ended. "When I saw it, I was a little surprised myself."
And when the fans saw the times posted on each lap, the roar increased.
But Dixon still had to weather two more runs to become the fifth 500 driver to claim three poles.
Japan's Takuma Sato drove daringly close to the walls and wound up finishing at 231.365. He'll start fourth, the inside of Row 2.
That left Carpenter as the last chance to knock Dixon off the pole — and he already seemed to know that probably wasn't going to happen.
"I was surprised when I saw some of the numbers yesterday and when he did that 232, a little pressure went away to be honest with you, " Carpenter said. "We wanted to be on the front row and we wanted to get everything we had — and I think we did that."
Dixon has 26 career IndyCar poles, breaking a tie for 11th place with Paul Tracy.
Carpenter, his teammate JR Hildebrand and Power were the only three Chevrolet drivers to make the top nine.
Dixon's teammate, Tony Kanaan, will start seventh after going 230.828.
Marco Andretti, the son of team owner Michael Andretti, will start eighth — the middle of Row 3.
While 32 drivers qualified Sunday, the last car on the 33-car grid will start without an official time.
That car will be driven by James Davison, who will replace the injured Sebastien Bourdais in the No. 18 car. Bourdais is expected to miss the rest of the season, a team spokeswoman said, after he had successful surgery on his fractured pelvis. The French driver also fractured his right hip in a frightening crash Saturday.
Source: www.latimes.com