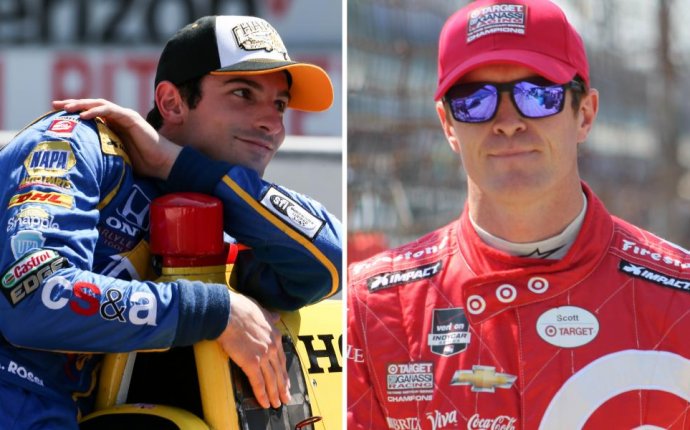 Indy 500 Drivers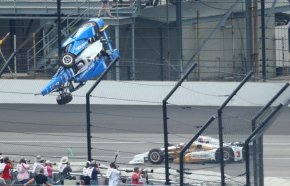 Scott Dixon and Jay Howard avoided serious injury in a spectacular crash — or what Dixon labeled "a wild ride" afterward — during the Indianapolis 500 on Sunday.
The crash occurred on Lap 53 when Howard's car bounced off the outside wall, apparently crushing his right front suspension. Dixon then went over the top of Howard's car as he tried to get past and he became airborne, crashing into the safety fencing. A photographer behind the fencing appeared to suffer minor injuries.
Dixon, a 36-year-old driver from New Zealand, told ABC after being checked out by medical personnel that he was "just a little beaten up" in the crash. Later, he felt some discomfort in his left ankle and was wearing a walking boot. "It was definitely a bit of a rough ride. I'm bummed for the team, you know. … Glad everybody was okay. Definitely a wild ride for sure."
— Nick Bromberg (@NickBromberg)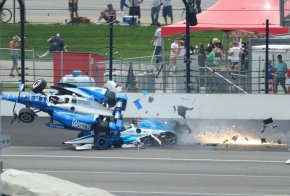 Dixon said he was hoping that he could get past Howard.
"When you make those decisions on which way to go, you're hoping — I was hoping that Jay was going to stay against the wall but obviously with the impact that's not how it turned out, " he said. "I'd already picked that way to go and there was nowhere else to try and avoid him. Glad he's okay, too. It was just a wild ride, man. You just hold on and believe in the safety progress we've had over the last many years."
Howard was unsure what had happened with his car, which may have had a breakdown that sent him into the wall. As he collided with Dixon "at that point, I was just a passenger, " he told ABC after he was checked out by medical personnel. "To say I'm unhappy is an understatement."
Scott Dixon's car is airborne after a collision with Jay Howard. (Mark J. Rebilas/USA Today)
Source: www.washingtonpost.com