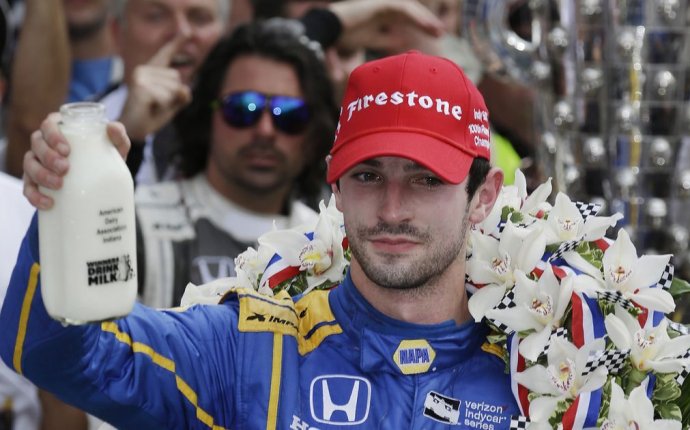 Who is Winning the Indianapolis 500?
Racing legend Al Unser may be 77, but his opinion still packs a punch.
"The Indy 500s, " Unser said quickly, when asked what meant more to him - his three series championships or his four Indianapolis 500 wins. "You've gotta take into consideration the prestige that the Indy carries, and the money. There isn't another race in IndyCar series that pays near the money and gives you near the working angle to go after.
"People don't say, 'Well, did you win Long Beach? Did you win Phoenix?' They say, 'Did you ever race at Indianapolis?' So that's why."
Unser, Rick Mears and A.J. Foyt are the only three drivers to win four Indy 500s. Six others have won three. Helio Castroneves, who will be competing this weekend in the Toyota Grand Prix of Long Beach, is one of them.
Interestingly, Castroneves has never won a series title and, at 41, is running out of time. Should he care?
More than money
Unser mentioned the financial benefits. Alexander Rossi made $2.54 million for winning the 2016 Indy 500. Although IndyCar does not release payout numbers for any other race in the series, spokeswoman Kate Guerra told this newspaper the Indy 500 prize money is, and always has been, significantly larger than any other IndyCar race.
Even so, the prestige of winning the most renowned race in the world seems to trump everything.
In his heart, Mears, who claimed three series titles, said they pale in comparison to his four Indy 500 wins.
"Yeah, I think Indianapolis, you know, the 500, " said Mears, who will be in Long Beach this week as an adviser for Penske Racing. "If I could only have one or the other, that's the one I would want of the two. I remember when I first started, some of the drivers before me saying that very same thing."
Mears, of Wichita, Kansas, won his Indy 500s in 1979, 1984, 1988 and 1991. He concedes series championships have become more important over the past couple of decades.
"But to me, I still say Indy is the Super Bowl, " Mears, 65, said of the race that first ran in 1911. "And the history of that place, the drivers. The talent that's come through that place over the years - the Foyts, the Andrettis, the Unsers - all those guys.
"And then you think about the thousands that have been through that never got the opportunity to win, you know? Just the history."
Advertisement
Castroneves could not agree more, although he would not confirm a rumor that Penske Racing - for which he drives - considers a season less than successful if one of its drivers does not win at Indy.
"Let me put it this way - every title, every important race, every important achievement for Team Penske is what we're looking for, " Castroneves said. "Now, the prestige in terms of winning the Indy 500, it's much bigger than actually winning the (series) championship.
"And that's where it comes to people's choice. You say, 'If you have a chance to win an Indy 500 or win a championship, which one do you choose?' Mostly everyone says the Indy 500."
Castroneves was clear on this.
"I wouldn't trade any of my (Indy 500) wins for a championship, " the Brazilian said. "And this year, if I have only one choice to make, I still would make the choice to win the Indy 500."
That would put him in the company of Unser, Mears and Foyt. The race is May 28.
"Imagine, in a hundred years of racing, only three guys did that, " Castroneves said. "How cool that would be to be part of it, to join this club. That's the way I look at it, and history could be made. We're going to work extremely hard to make that history happen."
Not everyone agrees
Will Power, a Penske Racing teammate of Castroneves, views the debate somewhat differently. He won his only series title in 2014 after having finished second in 2010, 2011 and 2012. It was everything to him.
"It meant, basically, 15 years of hard work and it was just such a fantastic feeling, " the 36-year-old Australian said.
Power has never won at Indy, so his opinion might ruffle some feathers. He concedes the Indy 500 is the most celebrated race, but he's always been "very championship-focused."
"The measure of the best driver is someone who, over not just one season, but consistently over multiple seasons wins every year, " said Power, who has 29 race wins, two at Long Beach. "The measure of a driver is the championship. But for prestige, the Indy 500 is obviously just a fantastic, fantastic race.
"For me, it certainly would be a huge deal. At this point in time, it would mean a lot to win the Indy 500 as far as my career."
Source: www.dailynews.com