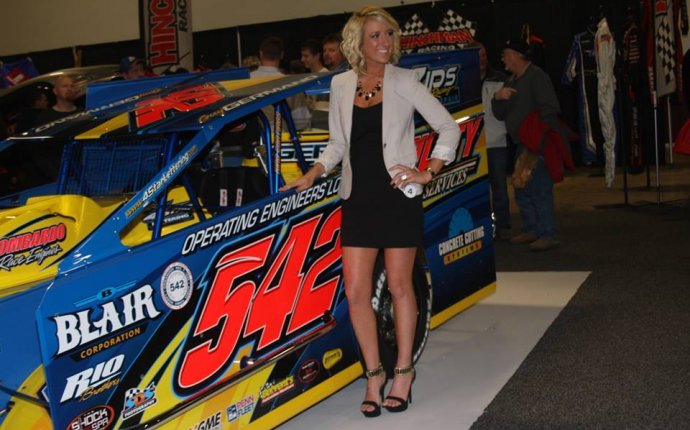 Area Auto Racing
Brett Hearn celebrates after winning the rain-shortened VP Small Engine Fuels 200 at the New York State Fairgrounds on Oct. 7, 2012. Mike Greenlar / The Post-Standard
The offseason in racing is a time to reflect and just like all sports and entertainment venues, racers are honored for their accomplishments. This past weekend one driver picked up a very prestigious honor.
Area Auto Racing News hosted Motorsports 2013 in Oaks, Pa. To celebrate their 50th year covering the sport, they assembled a top 50 driver list from that time period. Last fall the list was trimmed to the top 10. Since then voting has taken place to decide who would be at the top of that list.
This past weekend the number one pick was revealed and it was a driver who gets more boos and more cheers than anyone. New Jersey's Brett Hearn was named to the top spot.
"I am grateful to the fans, the motorsports media, and to Area Auto Racing News for this amazing honor, " Hearn told the crowd after being named the Greatest Driver of Area Auto Racing News' First 50 Years.
Other drivers listed in the top 10 include the late Richie Evans, Kenny Brightbill, Billy Pauch, Fred Rahmer, Jimmy Horton, Danny Johnson, Will Cagle, Frankie Schneider and the late Dick Tobias.
Other news from the show includes Frank Cozze's return to modified racing after two seasons in 410 sprint cars in his home state of Pennsylvania. Cozze will be behind the wheel of the Norm Hansel-owned No. 357 car that Jeff Strunk drove to several feature wins in 2012. Cozze is also a former winner at Syracuse back in 2008.
Soon-to-be modified rookie Katelyn Kane picked up a nice award as she graduated from the RACE 101 program in Hickory, N.C. as this year's Premier Driver.
"I was not expecting to win this, " Kane said. "This is a real honor, and I hope to live up to the standards of the Premier Driver."
This season Kane will occasionally travel from Syracuse to North Carolina on behalf of RACE 101 — which stands for research, analyze, consult and educate — to mentor drivers in this year's program. The new list of drivers for 2013 should be out within weeks.
Auburn-based Thomas Racing Videos was honored at the annual Eastern Motorsports Press Association Convention in King of Prussia, Pa. Both Mel and Matt Thomas were honored for their work in both Non-Broadcast Single Event and Non-Broadcast General Racing.
The father and son team have been recording races at tracks all over the northeast for over 30 years and currently record the action at Brewerton, Fulton, Can Am, Oswego and Utica Rome as well as many other races over the course of the season. And their annual Smash 'n' Crash videos have won multiple awards during that time and is their most anticipated release showing the most spectacular crashes at the tracks they cover.
As the 2013 season begins to take shape, Oswego Speedway has announced that Lou Cicconi will race the Vic Miller-owner No. 11 in the season opening ISMA event on May 4. Cicconi is well known for his expertise in offseason indoor shows and is well known in the winged super modified world.
futurology the world in 2050
future endeavors
future pro usa
future towards meaning
future up the river mp3 download
future without violence
future generations
future name
future questions
future you don't even know it lyrics
future inside future scala
future like i never left
future drive thru grocery store
futurology life
future nostalgia tour
future value
future war
future among us updates
what future brings us
future walk thru lyrics
future with glasses
futurology uk
future atlanta
future birthday
future weapons
future about for whatsapp
future as a verb
future at oasis wynwood
future near rhymes
future with sunglasses
future energy
future about artificial intelligence
is top ships going out of business
future for kids
futurology analysis
futurology sociology
futurology technology
pronunciation for futurology
future diary
future house
future in spanish
future java
future knight portal
future trunks
future us
future x hoodville
future beyond shell
future contract
fridays for future contra
future value of even cash flows
future from 8 mile
future from st louis
future looking into mirror meme
future like ours
future like movies
future near me
future on tour
distant future opposite of
opposite of future date
opposite of future crossword
future pro flag football
future versus battle
future within a sentence
the future within our grasp xenoblade
futurology bedeutung
futurology studies limited
futurology ologies
futurology of art
futurology timeline
subreddits like futurology
future city
future goals
future plc
future quotes rapper
future value of annuity
future zahir wilburn
future as a father
between future tense
future but not no mo
future krazy but true lyrics
future tense of despite
future for frontliners requirements
future of front end development
future into meaning
future near sentence
future over the counter
future pro basketball goals
till future tense
future to be
future vision towards 2030s
future and lori harvey
future vs option
image future (via google) g.co/helppay
futurology books reddit
futurology online course
futurology university
futurology in the us
futurology vinyl
futurists
future authoring program
future diary anime
future define
future authoring program
future engineers
future home realty
future home of the living god
future meaning
future of covid
future perfect tense
future shock
future utility platform converse
future zahir wilburn
future z puma
future against violence
against future generations
against future quotes
future around definition
future as a girl meme
future as an adjective
future at computer meme
future at oasis
before future tense
future hand behind head meme
future contract là gì
future in french
future off facebook activity reddit
future of outside sales
future pro usa
since future perfect tense
future till i introduced you
future till my last breath
future spoil her till she a brat lyrics
future to present value
towards future-proof inland waterway transport
future of via rail
future with hat
future without autotune
futurology blog
futurology cusd
futurology university
futurology in the us
books about futurology
futurists
books on futurology
future baby girl names 2020
future ford sacramento
future fins
future learn
future progressive
future value of money
future value equation
future you deserve it
future against violence
future as an adjective
future before nostalgia
future between
future like ours argument
future of next-generation sequencing for life sciences
future off road vehicles
future out the mud lyrics
future past meme
since future perfect continuous
future through numerology
spin_until_future_complete
within future perfect
futurology articles
futurology courses
data futurology
futurology forum
futurology language
futurology masters
futurology nedir
reddit darkfuturology
futurology topics
opposite of futurology
sentence with futurology
future birthday
future boy conan
future baby boy names 2021
Source: blog.syracuse.com