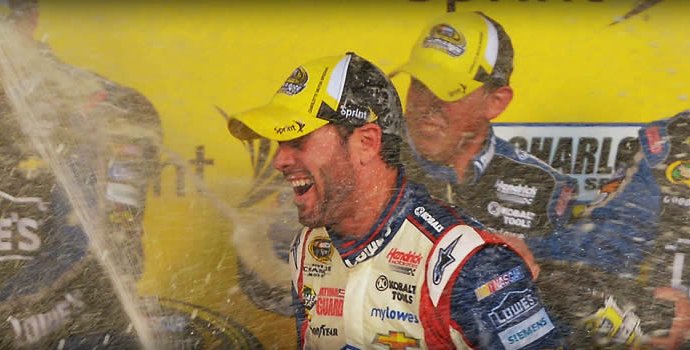 Winston Cup Standings
It's the saddest - and cruelest - form of "what if?" speculation: What if so-and-so hadn't died? How would history and the world as we know it have been different if this person had lived?
Unfortunately, motorsports provide plenty of "what if?" opportunities, given the fatal potential for participants on auto racing's worst days.
On this date every year, the "what if?" in Alabama involves Davey Allison.
Son of Bobby Allison, nephew of Donnie Allison, protege of Red Farmer, Davey Allison was carrying forward the banner for the Alabama Gang. But 23 years ago today, the NASCAR star suffered serious injuries at Talladega Superspeedway - not in a wreck on the world's largest racing oval, but in a helicopter crash in the infield on July 12, 1993.
Allison died a day later at a Birmingham hospital.
Dale Earnhardt Sr. also had his career ended prematurely, dying in a crash on the final lap of the Daytona 500 on Feb. 18, 2001. The "what-if" stories on Earnhardt have focused more on the acceleration in safety advances in NASCAR prompted by his death than about how the racing record book might have changed. The Intimidator had 22 full seasons in NASCAR and won seven championships and 76 Cup races.
But almost two decades ago, Earnhardt speculated on how Allison's death affected NASCAR.
"I think Davey would definitely been champion, champion over several times probably, " Earnhardt said. "Who knows? I might not be seven-time champion if he was still alive. He'd have beat me out maybe a year or two. It's just hard to figure, hard to figure how it would have turned out."
Davey Allison - 1994 Winston Cup champion?
Was Earnhardt right? Yes, on at least two counts.
First, it is hard to figure - and impossible to know - how it would have turned out, especially if all the "what ifs?" that might have impacted the Allison "what if?" are considered. What if Alan Kulwicki hadn't died in 1993, too? What if Tim Richmond hadn't died in 1989? What if Tony Stewart had stuck with open-wheel racing? And on and on.
Second, based on the statistical evidence, Allison would have become a NASCAR Winston Cup season champion.
But what about Allison costing Earnhardt one of his seven championships, tied with the King himself, Richard Petty, for the most in NASCAR Cup history? That one seems less certain.
Earnhardt won his championships in 1980, 1986, 1987, 1990, 1991, 1993 and 1994.
Allison earned the NASCAR Winston Cup Series Rookie of the Year Award in 1987 and raced his first full Cup season in 1988. In 1991 and 1992, he posted consecutive third-place finishes in the series' season standings.
When Allison died in 1993, 16 races into a 30-event Cup schedule, Earnhardt sat on top of the standings - 171 points ahead of second-place Dale Jarrett and 323 points in front of Allison in fifth place. Earnhardt went on to capture the 1993 pre-Chase title by 80 points over Rusty Wallace, who won five of the final 14 races and made up 170 points.
It doesn't seem likely Allison would have denied Earnhardt the 1993 championship.
The next season is another story, though.
After Allison's death, Yates Racing skipped an event, then had Robby Gordon in the No. 28 Texaco/Havoline Ford for a somber Die Hard 500 at Talladega Superspeedway on July 25, 1993. The No. 28 got on the track only four more times that season, with Lake Speed at the wheel.
In 1994, Yates Racing put Ernie Irvan in the "Battlestar, " and coming off a second-place finish at Watkins Glen in the 20th race of a 31-event season, Irvan was 27 points behind Earnhardt at the top of the Winston Cup standings. Each driver had three victories, and third-place Rusty Wallace was 299 points behind Irvan.
But the next week at Michigan International Speedway, Irvan had a horrific wreck in practice that nearly cost him his life. It did cost him the rest of the 1994 season and almost all of the 1995 campaign, too.
Source: www.al.com